After landing in Newcastle from Dortmund I had a rather busy afternoon/evening ahead which went a little like this:
16.30 Land in newcastle, get through passport control, Steve and myself pick up my car and I drop off Steve at the Sage to pick up his mini and drive home.
17.30 After dropping off Steve, I travel to Dance City where James took delivery of some kit for tomorrow's (monday) gig.
18.00 Get to Steve's in Tynemouth, and pick up some more kit, monitors computer bits etc and then head off home with a car full of technology.
18.30 Arrive home, unpack car, put washing in machine, set up mac pro, and do a clean install of Snowleopard for a clean Catalyst machine.
19.30 Managed to tidy the house, build up the rack and panel to contain the dual Matrox DHTG anlaogue.
19.40 Collected 4 x 1024×768 monitors from around the house and set up to program Catalyst for the install I was providing technical for at Lumiare11
20.10 Iain one of my friends came around who was lending me some kit and we preceded to have a bit of a GeekOut, at this point I was completely Knackered and probably taking gibberish but got a good photo of Iain in my temporary emergency makeshift workshop, my living room.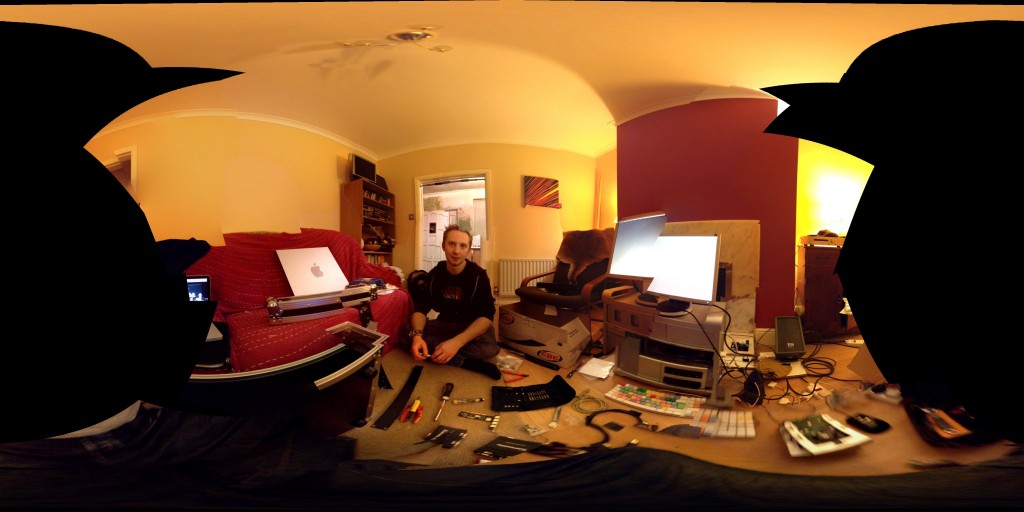 Iain, in the 'Workshop'. Taken using Photosynth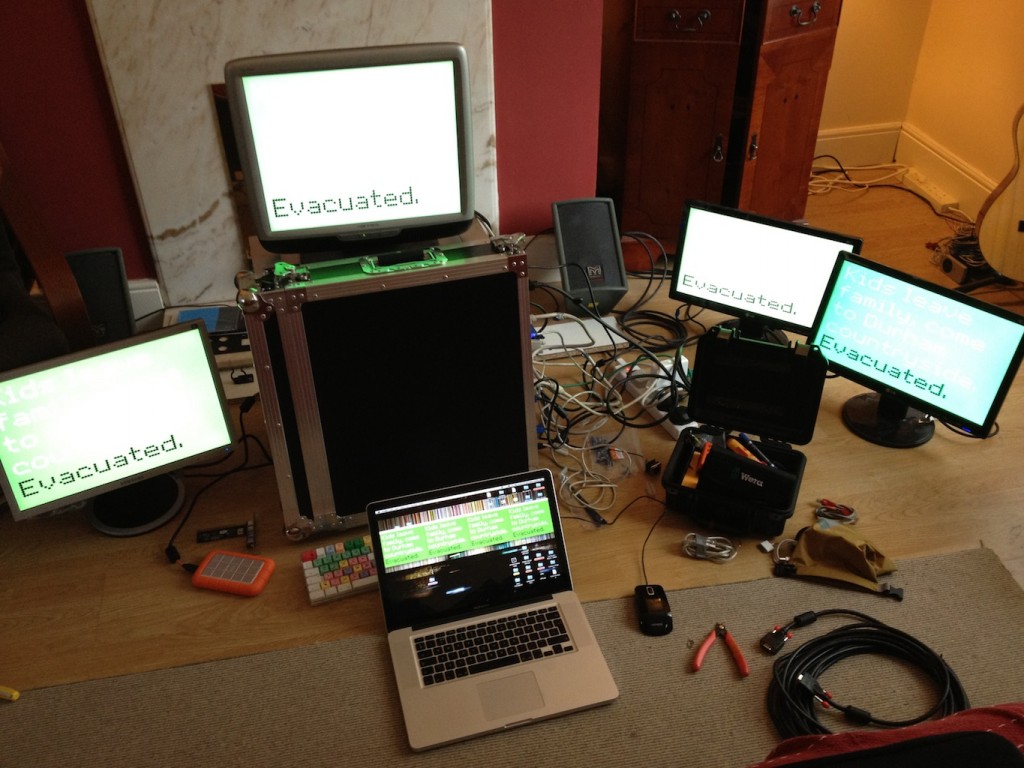 Soak testing, 4 clips of 1024 x 768 running in sync, easy-peasy.
After tweaking bits and pieces, marking up cables and leaving the system running for a while all seemed fine, I packed it all down ready for Mondays install. It was arround 23.00 there was flight cases strew around my house, clothes to get out on the radiators, I just about managed to get the washing on the radiators, and collapsed into bed……. zzzzzzzzzzzzzzzzzzzzzzzzzzzzzZZZZZZZZZZZZZZ.
Monday morn I got to site around 11.00'ish, there was no massive rush, the structure which I was installing the system was still to be built. I had been asked by HiLights theatre services who were overseeing the technical's of Durham Lumiare11 to come and do the projection system design & install for the artists, Richard Wolfstrome & Ira Lightman, who's piece it was, a description of the piece can be read Here, unfortunately I never got to meet the artist.
UPDATE:16/03/12
I received a nice email correspondence from Richard wi has a good description and nice video of the project here: Lightwriting and some nice stuff on how blog. well worth a look around.
Technically my task was to, line up 4 projections which were played in sync and consisted of many circles forming and words and stories, each of these circles needed to perfectly match the circles which had been cut in each side of the cube in a matrix fashion, 3640 holes PER SIDE!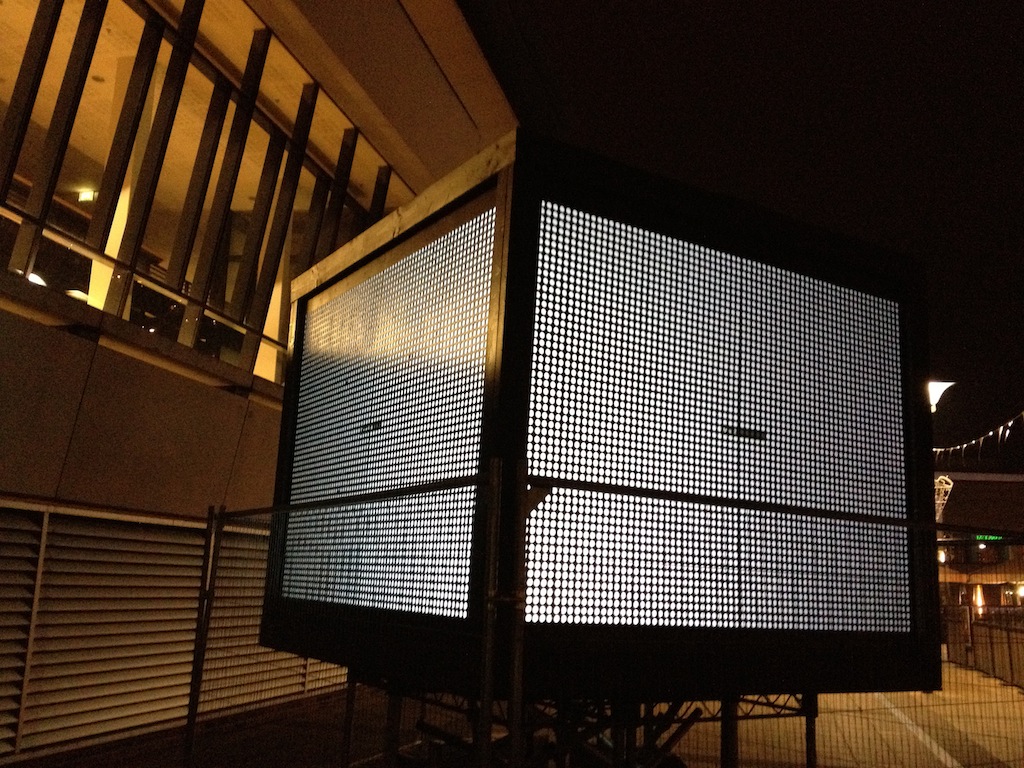 Once the structure was up I bundled all the required kit inside the cube and began setting up, with projection like this and super wide lenses its good practice to be as square and accurate to your surface as possible. In this case, due to the nature of the beast, nothing quite lined up, to the eye it looked ok, but when you begin shooting beams of straight light at it, things become clear that its all slightly off. I persevered helped with the early darkness and got the projectors as close as square and lined up as possible to the surfaces utilising as much of the raster as possible, we don't want to be wasting any of that light! After getting as close square as possible I broke out Catalyst and tried to like up the images using the 4-cornerpin keystone mix, and kept trying but it was no good, I had to move up to use the 16point Curved screen mix setup giving me 16 points of image manipulation per side of the cube to pull everything into place. For anyone who wants to GeekOut, below is a schematic of the system, thank you Jonathan Lyle for pointing me towards Omnigraffle for doing schematics(rubs knees, oooh shcematic).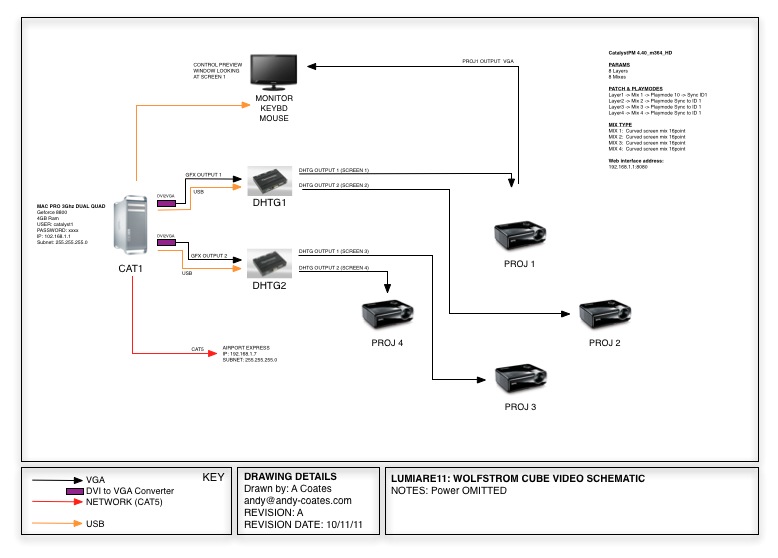 PDF: LUMIARE11 SCHEM Rev1
So to cut a long story short, I done some successful lineups on the first night and came back the following day to get the finalised content which was to be a set of 4 clips for each day of the festival (4 days in total). Much of the day was spent re-rendering the video to optimise playback and sync, once i had all of the content in I tweaked the lineups so everything was pixel perfect for all the footage. I set up a wireless interface using an ipod touch so whoever was looking after the install each day could logon, select the preset for that particular day, check the lineup and let it run for the rest of the evening, it worked a treat, nice and simple nice and easy. After a day of careful rendering, re-aligning, cable management and system setup I handed the install over to Hi-Lights. I do like little gigs like this where theres a bit of a challenge but with the opportunity to make life easy for the client and do a pixel perfect lineup.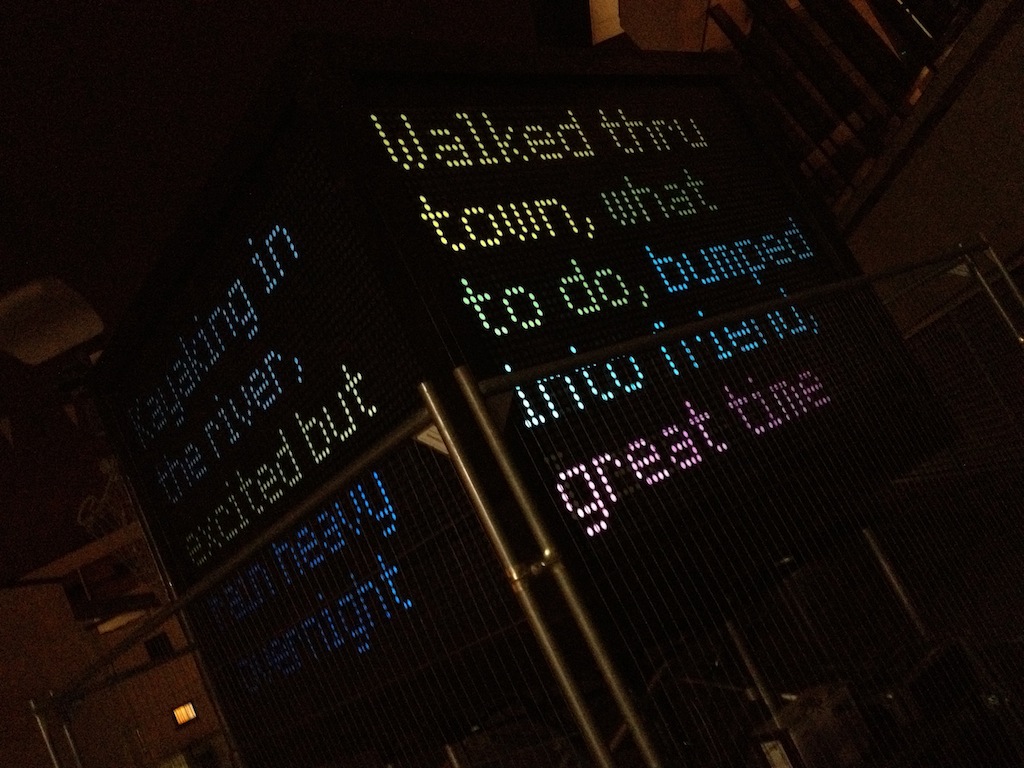 Unfortunatley I missed taking a photo Without the Heras fencing around!