Its Bank Holiday Monday the 28th of March 2016 and I'm finally sitting down to update this blog, its seems to be turning into quarterly updates. I keep promising myself to post more regular as theres allot of interesting stuff i miss out or forget to put in when posting at such large intervals. I think I've said that pretty much every update for the past 5 updates.
So, picking up where the last blogpost left off, i had been working with QED doing a projection mapping at Islington for Nina Dunn, that was sort of my last job before christmas which meant one thing, Xmas party's. Luke had invited me to his "Luke Halls Studio – Tardy Christmas lunch" and it was excellent, there weren't many of us but we managed to start eating and drinking at about 13:30 and ended up gate crashing the end of the 59 Productions xmas party at around 22:00, after much silly dancing and more drinks I made it back to where i was staying, somehow.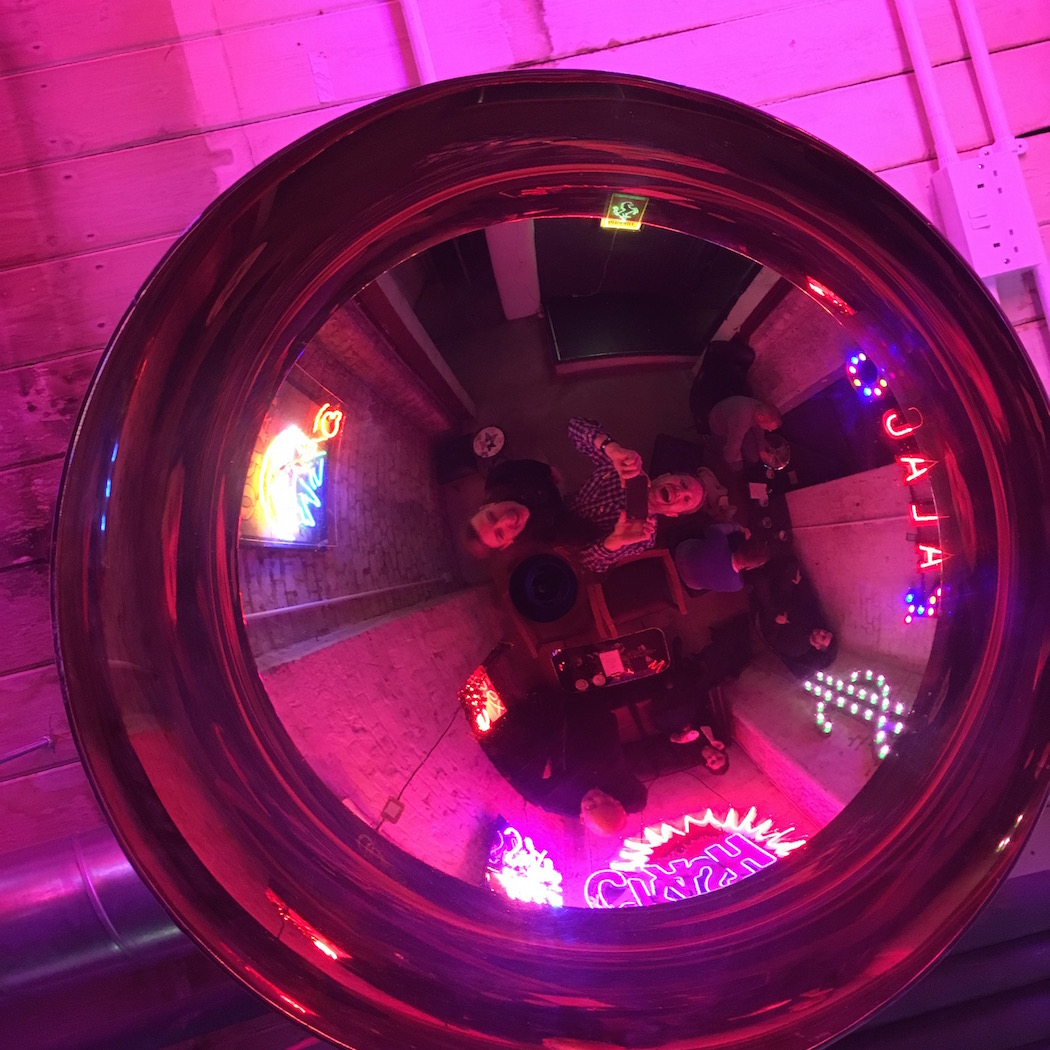 When I said earlier that Islington was the last job before Xmas there was one little job squeezed between and that was setting up the Dell Street Scene stand at Westfield shopping centre for Drive Productions. It was a advertising stand where we had an massive replica of the current dell laptop they were promoting. Members of the public were invited to stop on the key of the giant laptop which triggered one of several video clips on the rear projection screen. We had a 30k lumens 4k resolution Christies Boxer projector delivering the content and I had my d3 4×2 driving the projection. It did look really tidy and the animations were really punchy.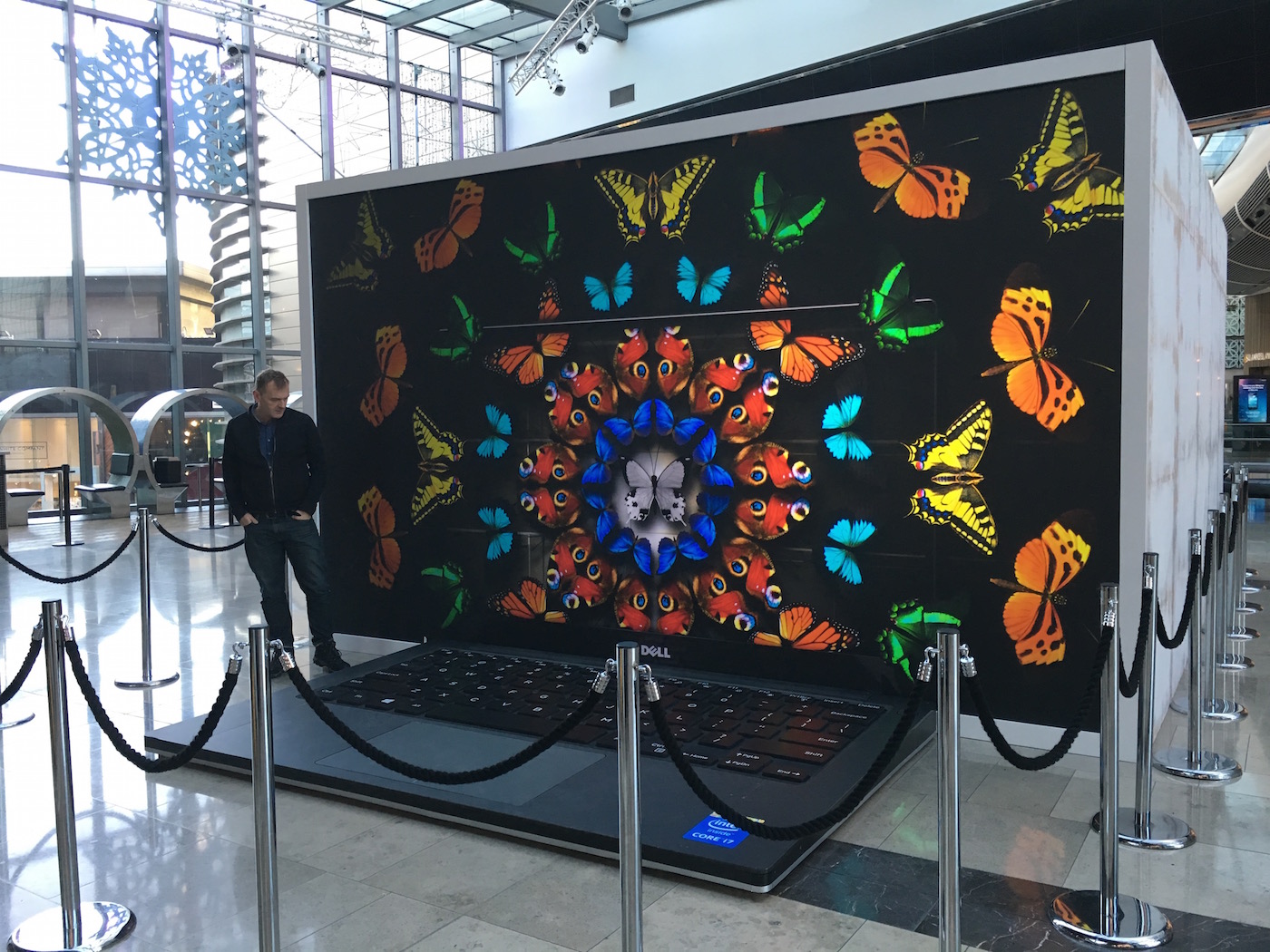 After finishing the last job down London I travelled back up north to see friends and family for christmas. About a month prior to this i was out with my mate Marley and after a few beers and chatting we decided to book flights to Berlin for new years, long story short, something went wrong with the booking and I ended up with 2 extra flights after an internet mixup. At this stage the most sensible thing to do was to invite more people, in the end there was 6 of us having a mini holiday in Berlin for the new years. we all got out there around the 29th/30th and returned on the 5th, I can safely say its the most I've laughed with a great bunch of mates in a long time. Mitch doesn't look happy in the photo below but it was minus 12C that day and I think he was the only one without thermals!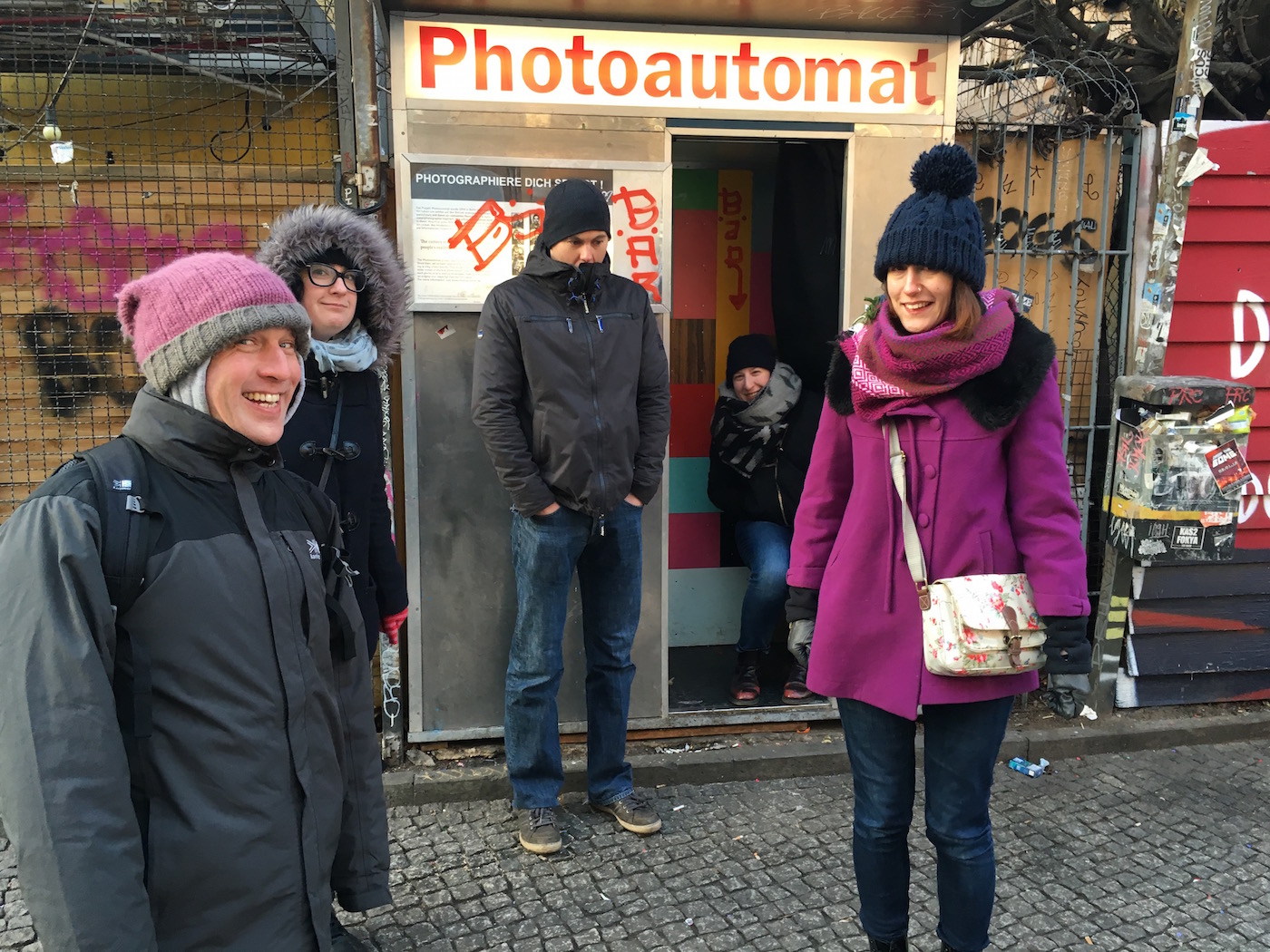 After returning back from Berlin there was a short turn around and i was prepping to go back down south for London Lumiere working with ArtAV again doing projection onto another Jannet Echelman sculpture. We had learned allot from doing 1.8 on Durham Lumiere in the previous November and this was a big step up in terms of complexity and timeframe we had too do everything in.
I was looking after projection and d3 project setup. We were using projection on the sculpture as there was an interactive element were the public could long onto a web app with their phone, where the was a topological image of the net displayed. When the user taped the image on their screen a dot would appear on the simulation on their phone/device and an actual blob of light would appear on the actual sculpture through the means of projection. At the sane tim up to 6oo could log onto the network and collectively generate projected patterns on the sculpture. This, combined with lighting made a pretty impressive floating thing above Oxford Circus.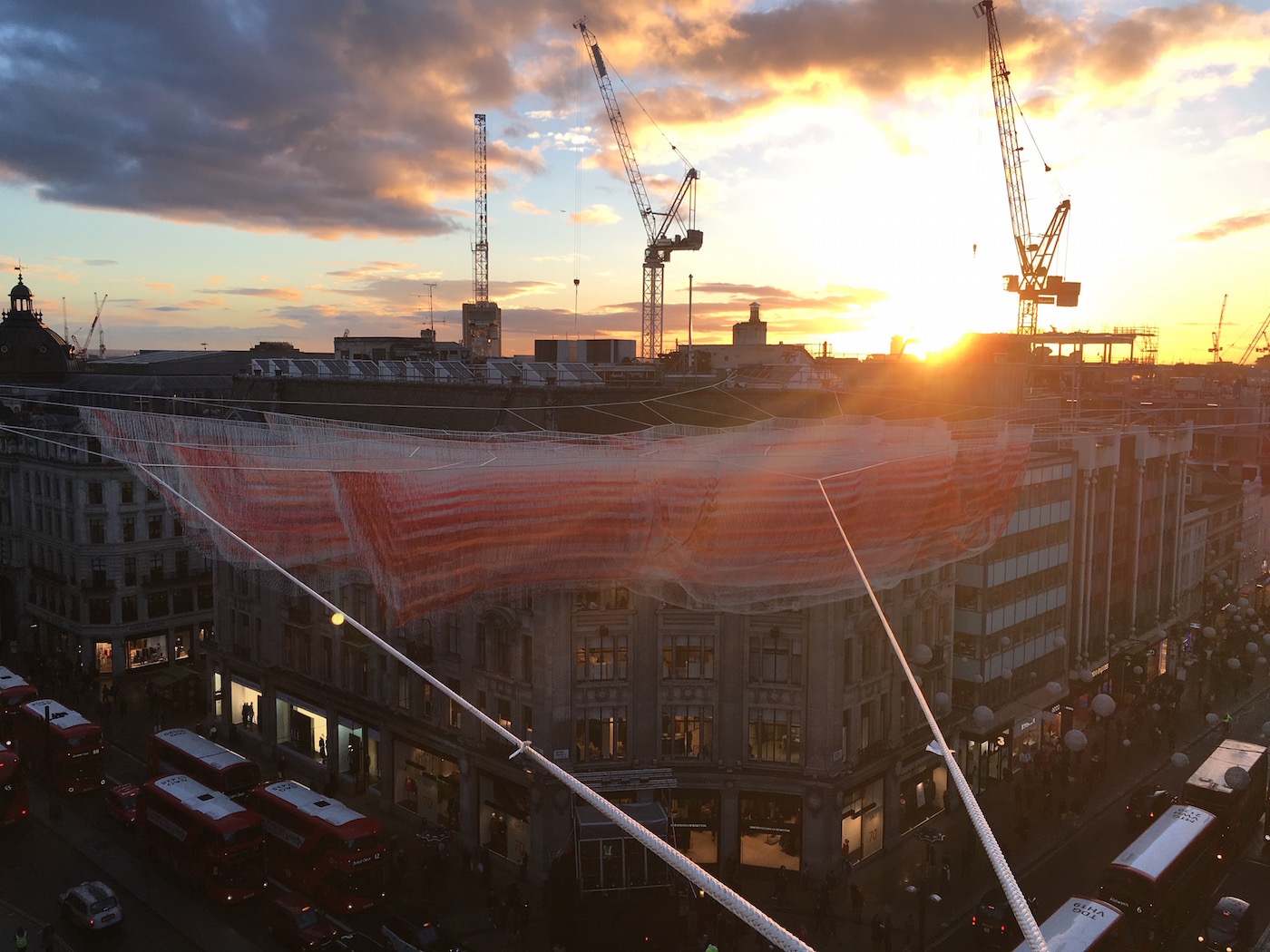 There was quite allot of preparation which went into this and as we got closer to the event the schedule slightly changed meaning we had less setup time. I got a final 3d mesh model of the sculpture around December, I had no idea how I was going to unwrap it and when I did get the model it came in as 300,000+ polygons and was a pretty complex shape.  After trying and realising the limits if my then 3d modelling and UV unwrapping skills i got in-touch with Dave Shepard. Dave managed to work his absolute magic in super quick time by entirely retopologizing the mesh down to 3000 polygons and doing a really good uv unwrap.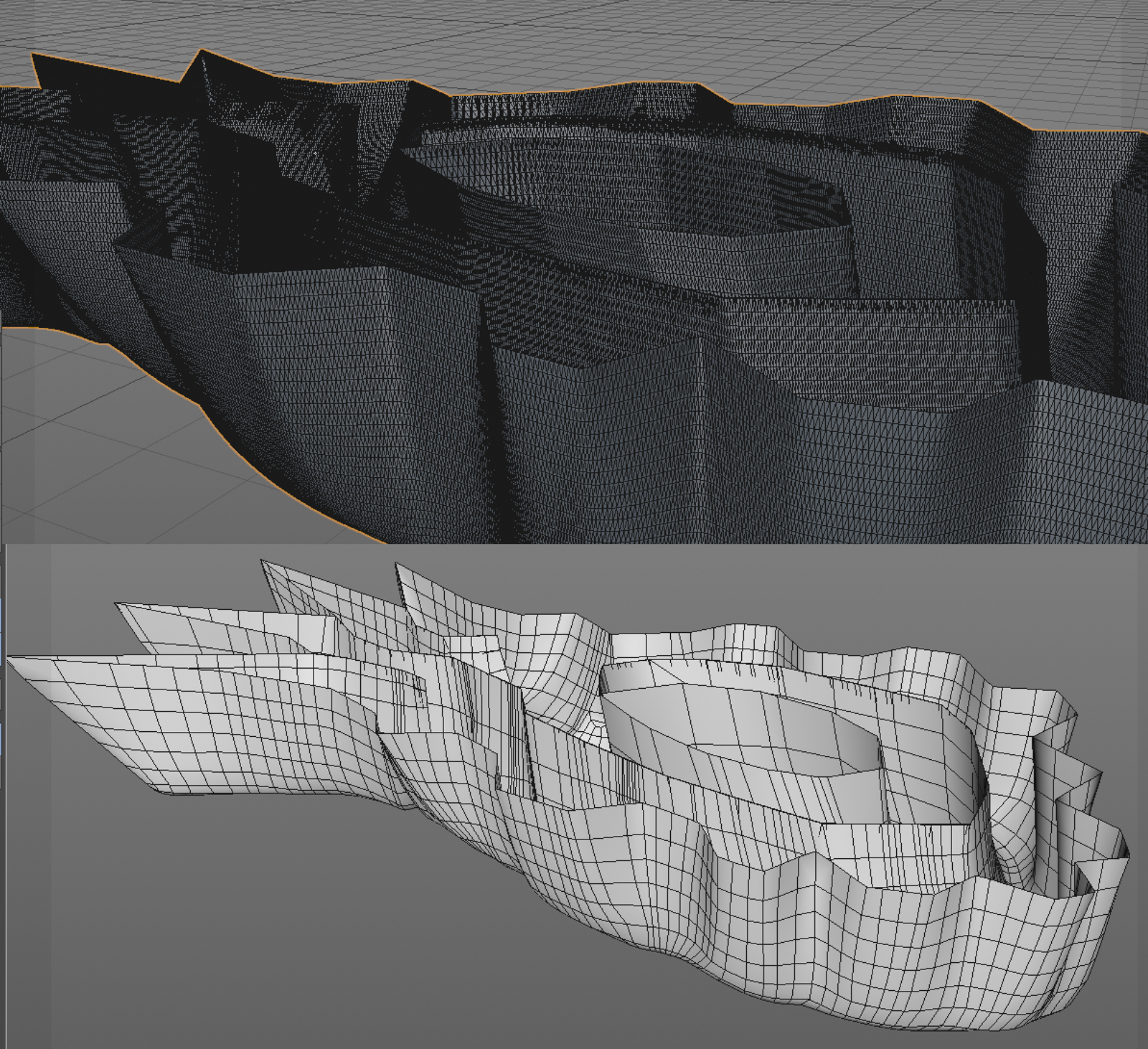 This was the model with a standard UV colour pattern applied.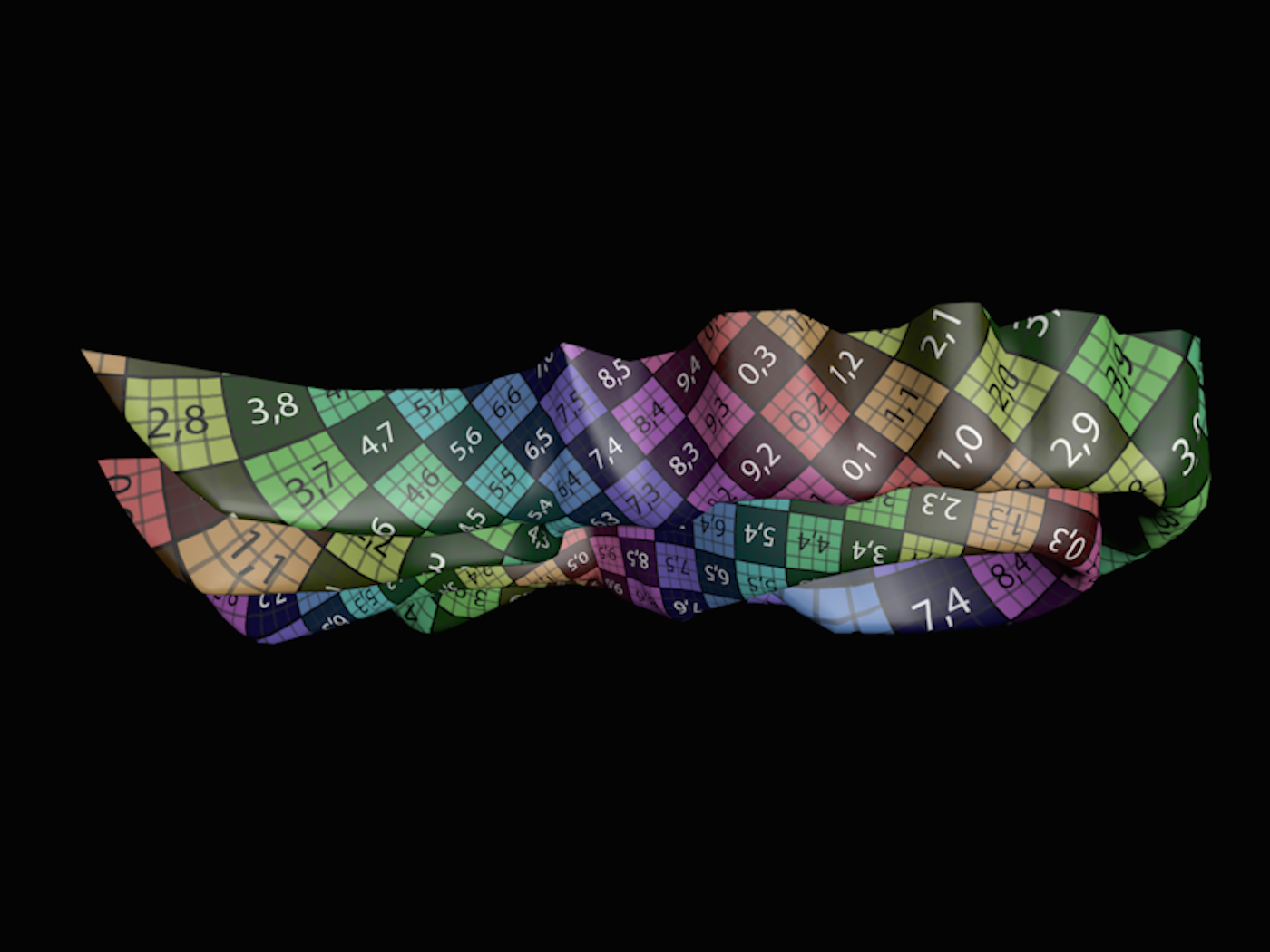 And this is the 2d UV unwrap which Dave sent (you may need to open the image i a new window to see the grid), I took the original and created this line-upgrid, in the next image below.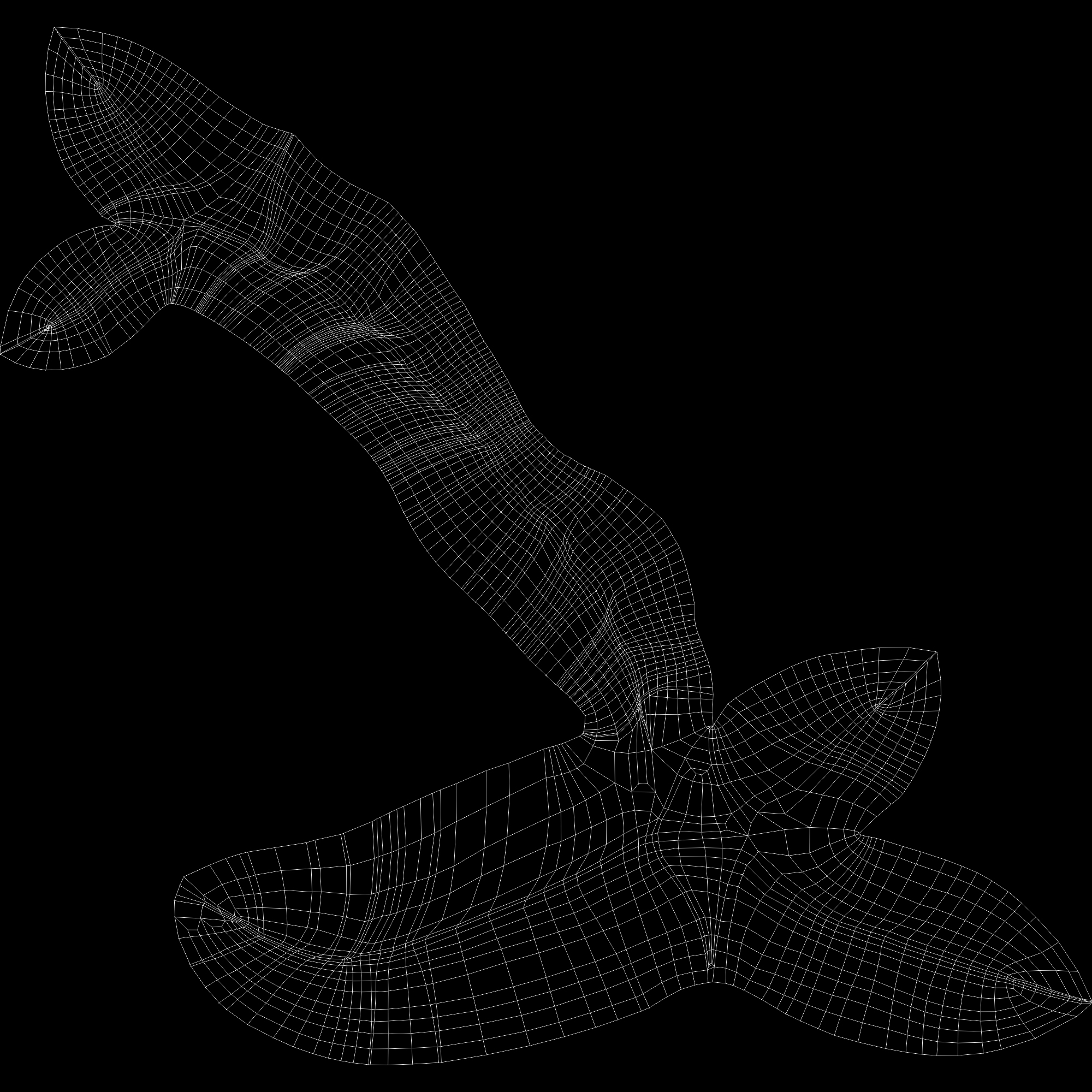 The lineup grid below shows the main elements of the sculpture we were aiming to hit with projection. The white area represents the lowest part of the hanging net  and the numbers and colts are there for clarification when identifying the overlap and orientation of things.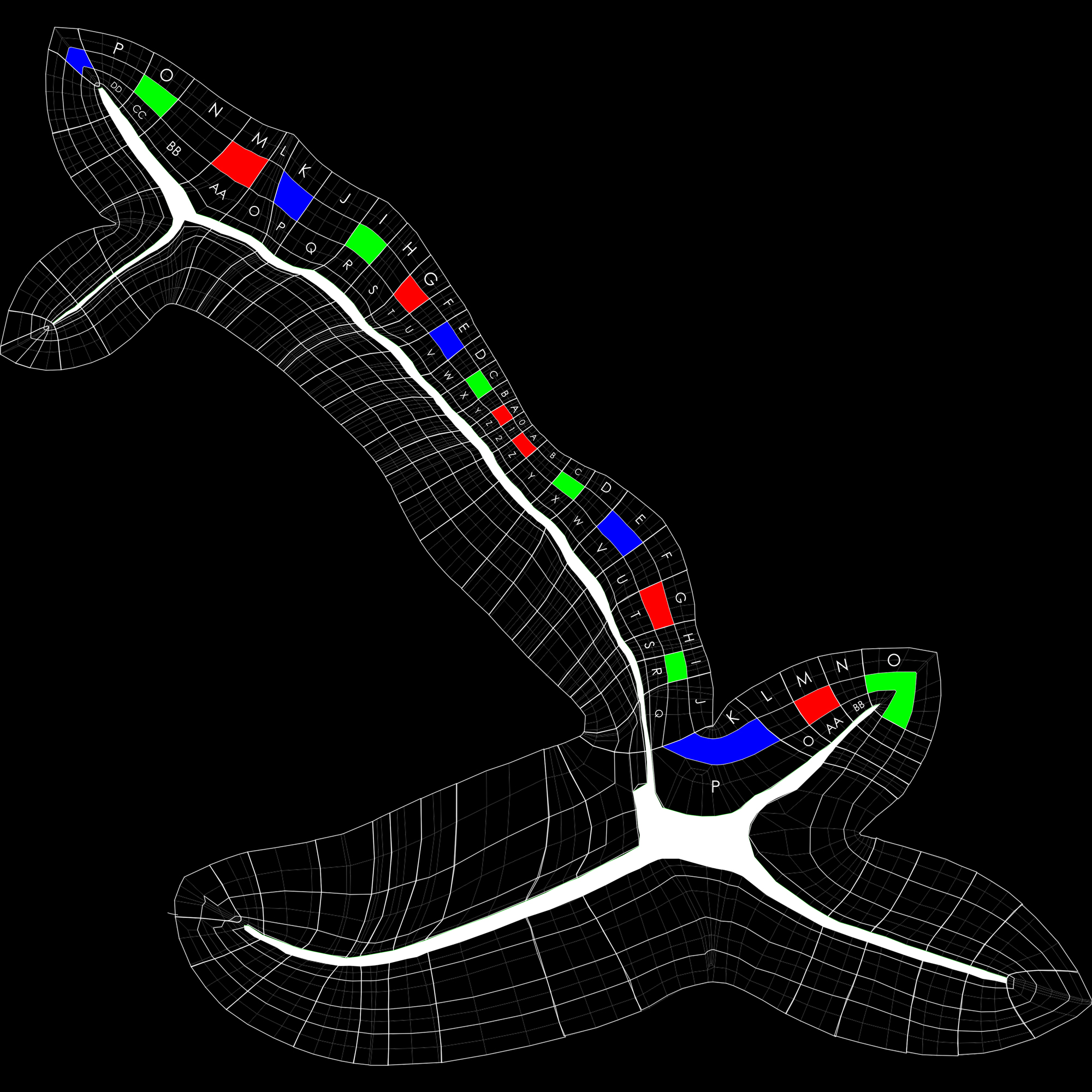 This is a photo I took when I had 2 out of the 4 projection towers (west) lined up, 6 projectors currently out of 12. There was several things with made this quite challenging, first was the sculpture material being around 50% transparent although we were were hitting it with enough light to be visible. Next was the sculpture itself, it is constructed of an inner and outer mesh, one hanging inside the other which gave off double imaging more totable around the bottom so it was difficult to tell if the projection overlaps were correct immediately. Wind, bloody wind, trying to lineup in software projection on a moving surface is frustrating and more frustrating is there is nothing you can do about it apart from wait for it to calm down and cary on. Lastly when the net went up it was close to the requested position but ended up slightly south and was rotated clockwise a little to the original plan. Positioning the final model net position in d3 was a combination of referencing to where it was in relation to the ground, taking photos and laser measurements and quite a bit of guesswork and trial and error.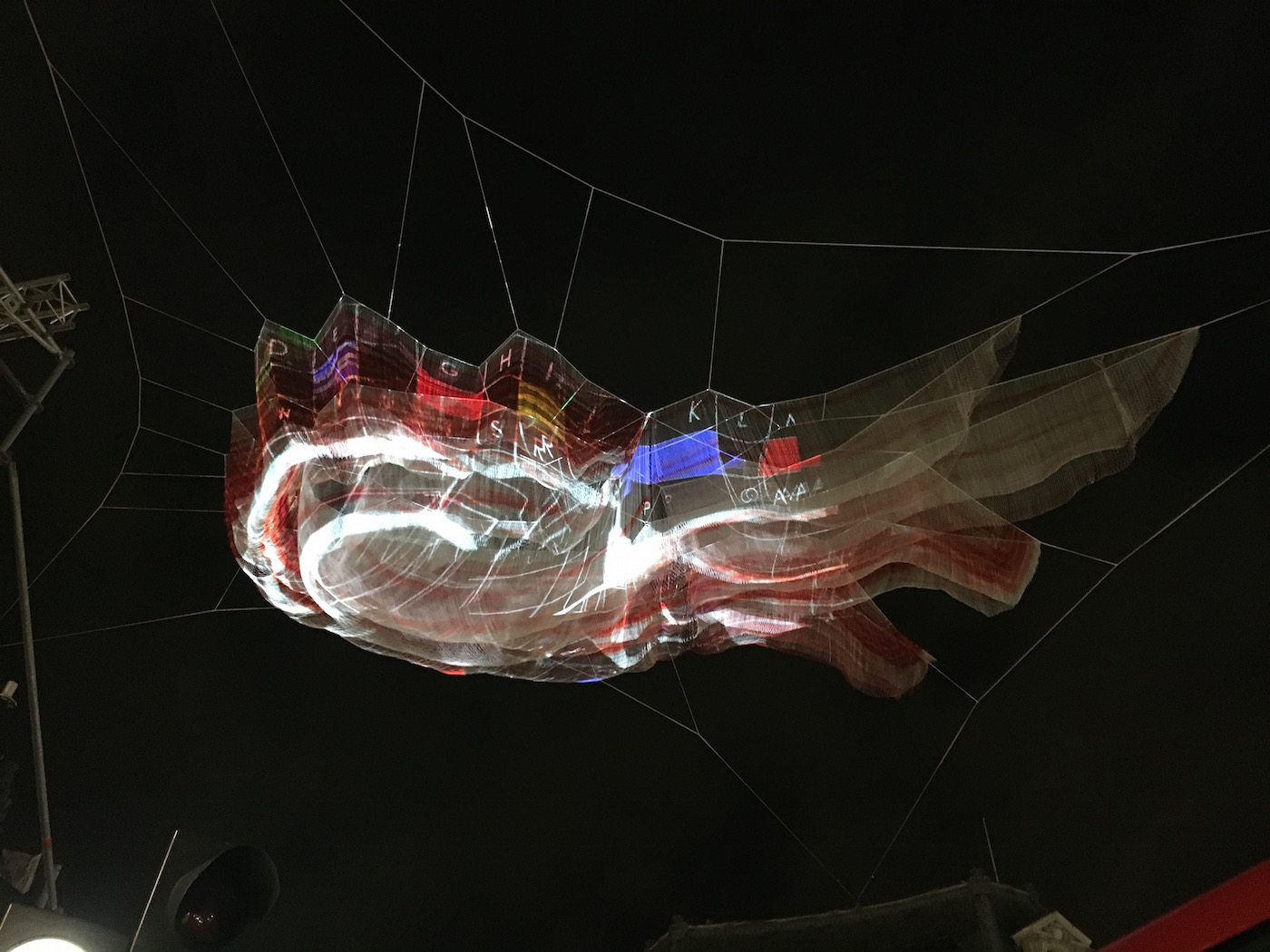 When it came to lining up the first projector I spent quite a bit of time trying to move the virtual projector into the correct location which got the lineup relatively close. The net didn't actually hang exactly as the model but was pretty close so, I decided as an experiment, to try Quickcal in d3. Given that the upper part of the net structure was a set of rope bridals with little stretch I knew that the upper loop of the net would have the least distortion when hanging. I placed 4 calibrate points along the top of the net where there were obvious vertex and then took an arbitrary point lower down near the bottom of the net and dragged it onto what I thought was close to the real-world position on the net. When I eventually got an image after moving around my fifth quick cal point I gradually adjusted the previous points little by little until the projected mesh was pretty much lined up onto of the real net. After a little more 2d warping it was pretty dam good, and i repeated the process for the remaining 11 projectors. I do feel like I was abusing the quickCal feature in d3 but it worked really well in this instance and gave me consistent results!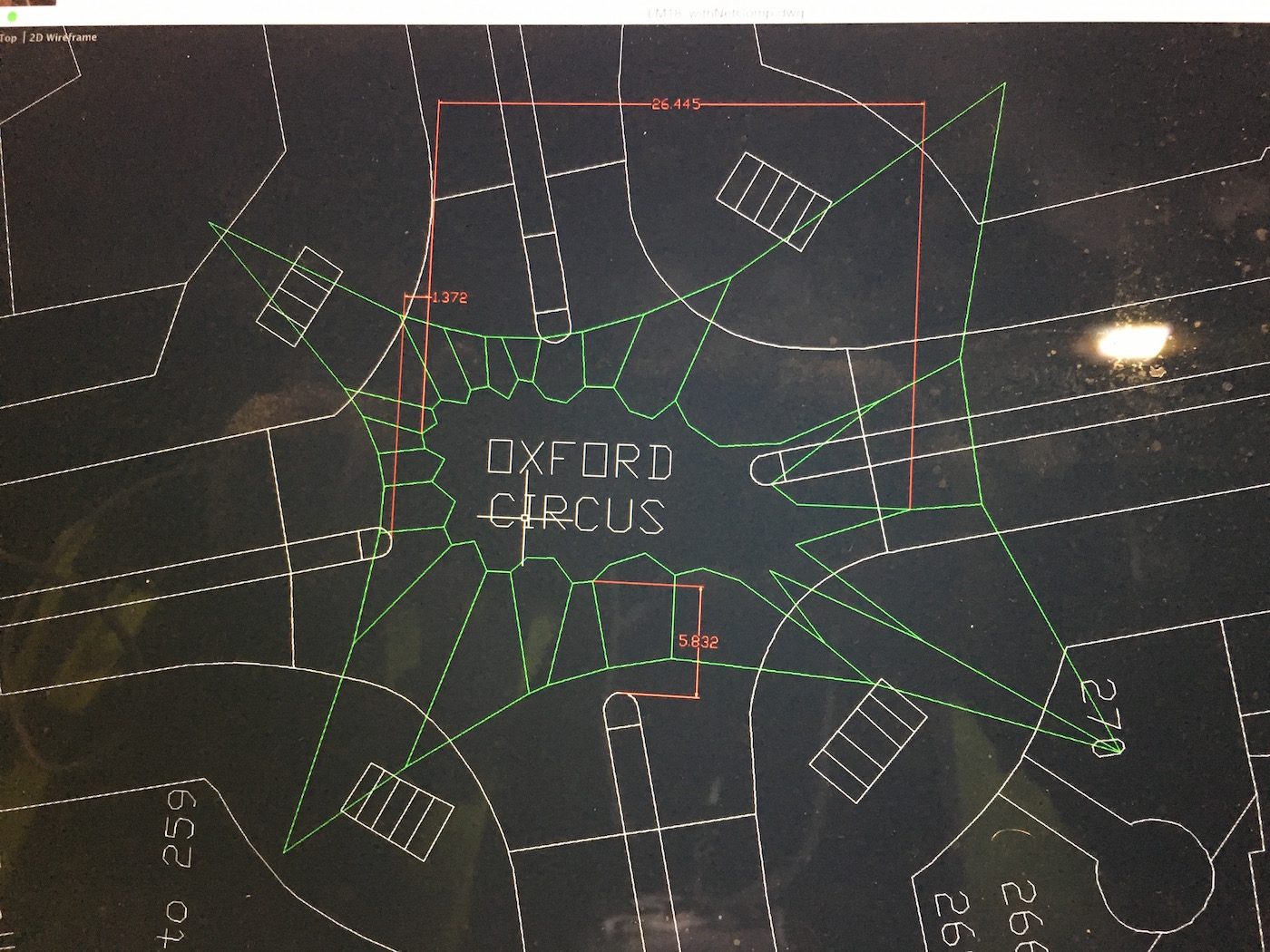 Rewinding back two days before lining, to get the sculpture in the air, Gary White assembled a team from Unusual Rigging to get it up, this involved a road closure in Oxford circus prior to the event and one or two pissed of shouty taxi drivers. After a bit to untangling and rethreading the massive jellyfish like structure it was up, and looked pretty impressive.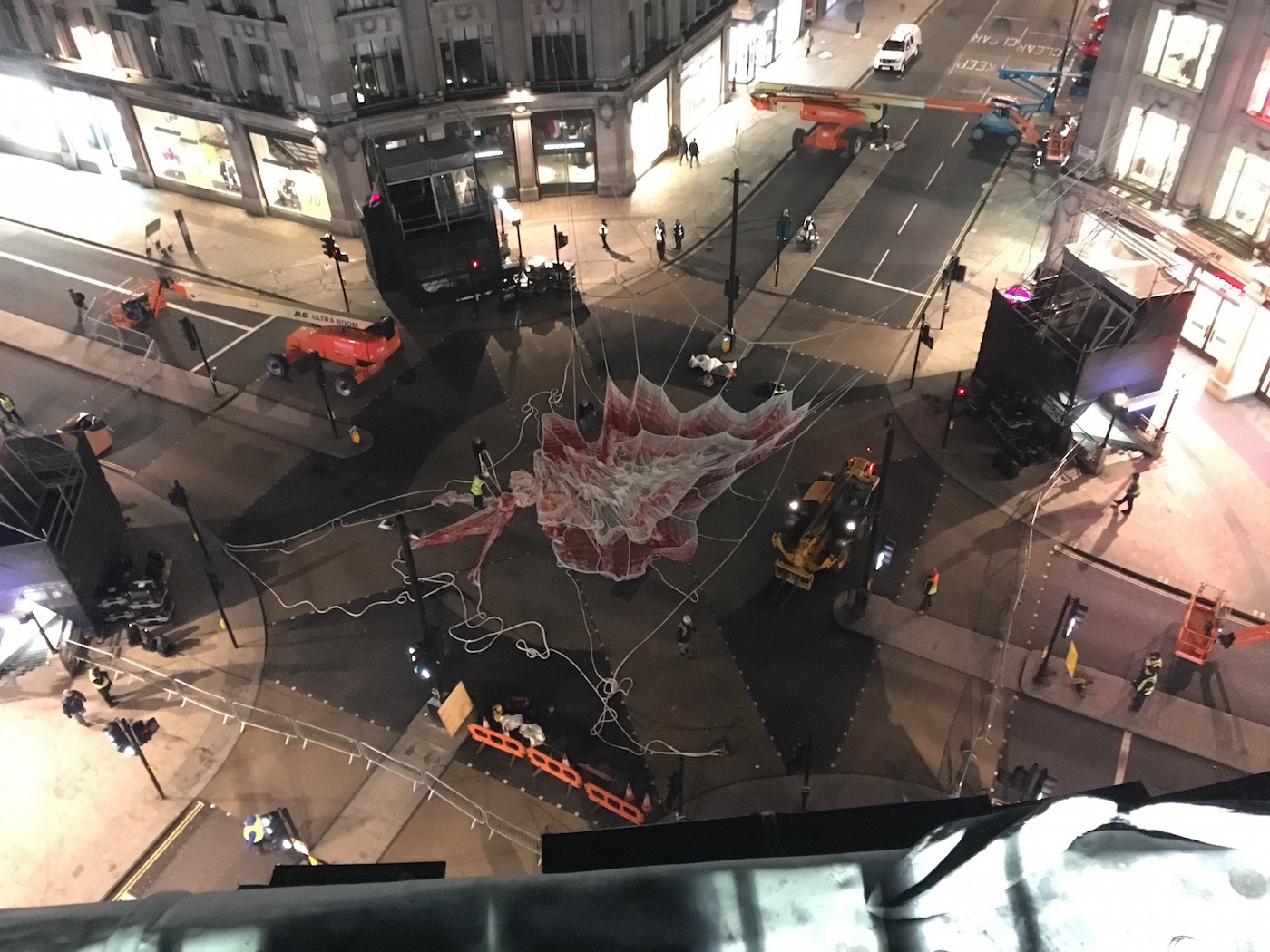 On the first night we set up the control room which was in the power distribution room onto of Topshop in oxford circus. It was pretty cosy and pretty noisy and after we had finished with it it was full of d3 and touch designer servers, plus allot of ancillary equipment for the event.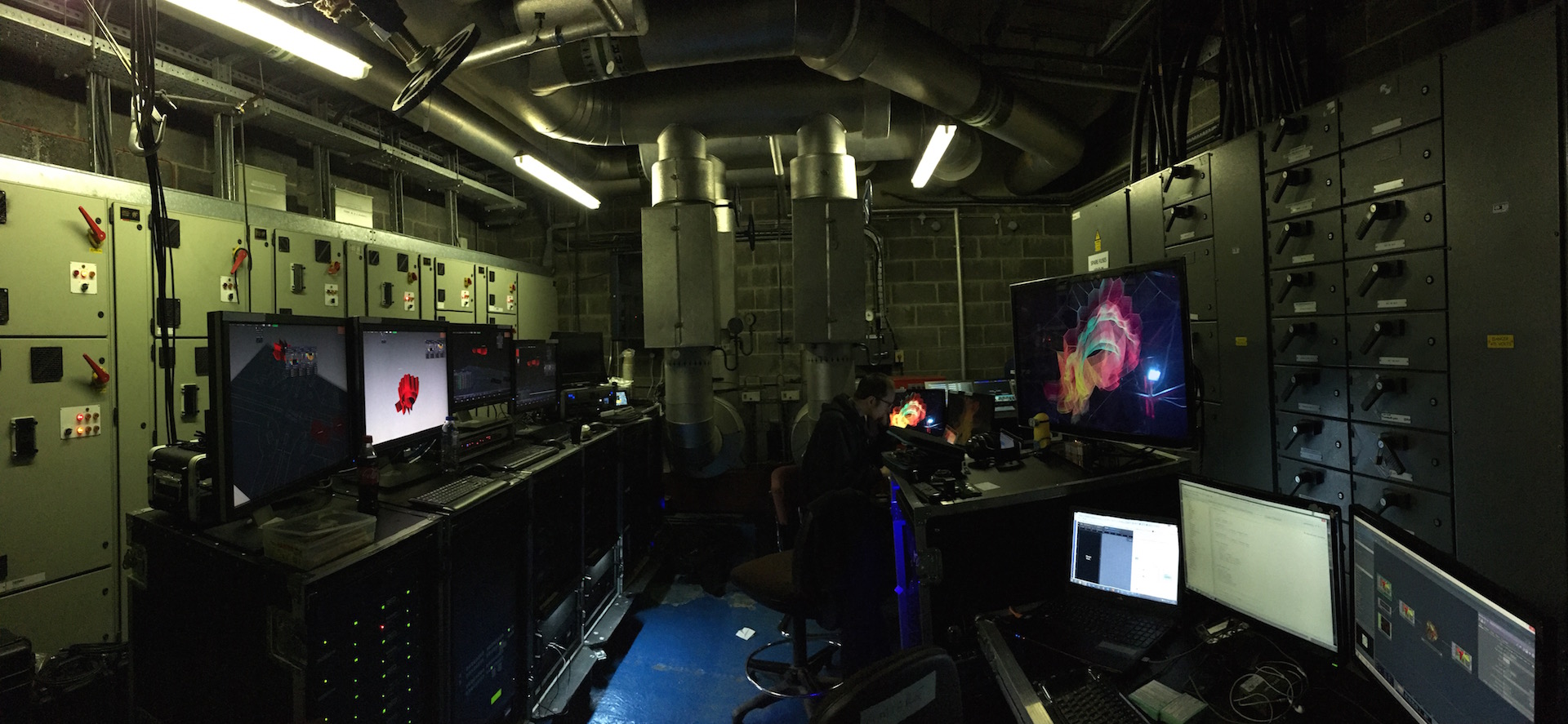 The following night involved getting all the signal distribution in from the control room to the projection towers. Because of space restrictions the projection & lighting towers were built onto of the exits to the tube exits on each corner of oxford circus. QED provided all the  d3 servers, projectors and their excellent fibre system to get DMX, DVI and network between the control room and the projection/lighting towers. In addition ArtAV had built some custom Touch designer servers and a rather powerful wifi network system which handled the interactivity, I think at one point the system had 500 consecutive users online generating realtime patters on the sculpture from their phones.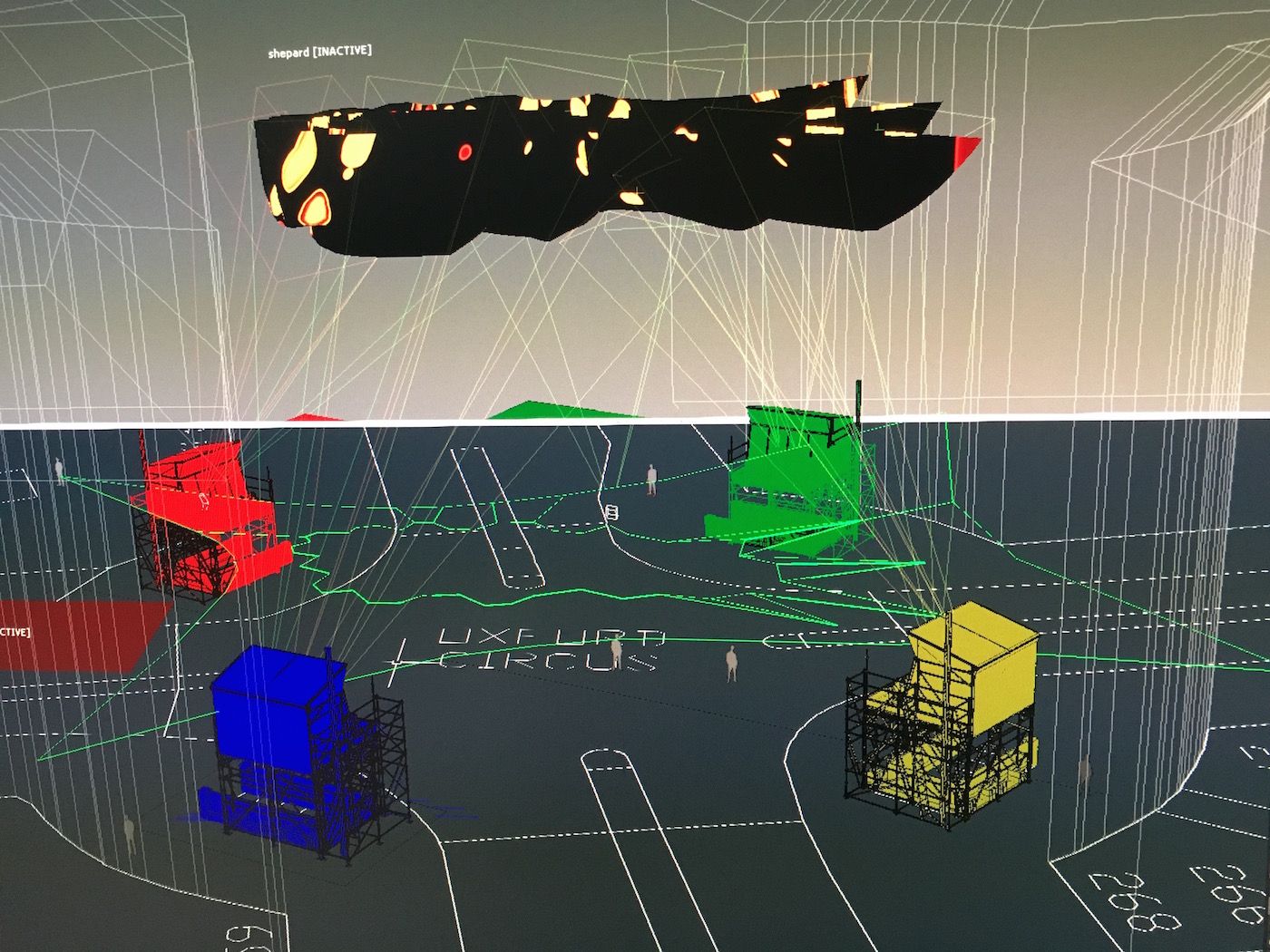 After a very short 3 days setup we were up and running of the first evening of Lumiere London on the Thursday. It was a sterling effort by everyone getting everything up and running in time along with all the other artworks being installed around the city too.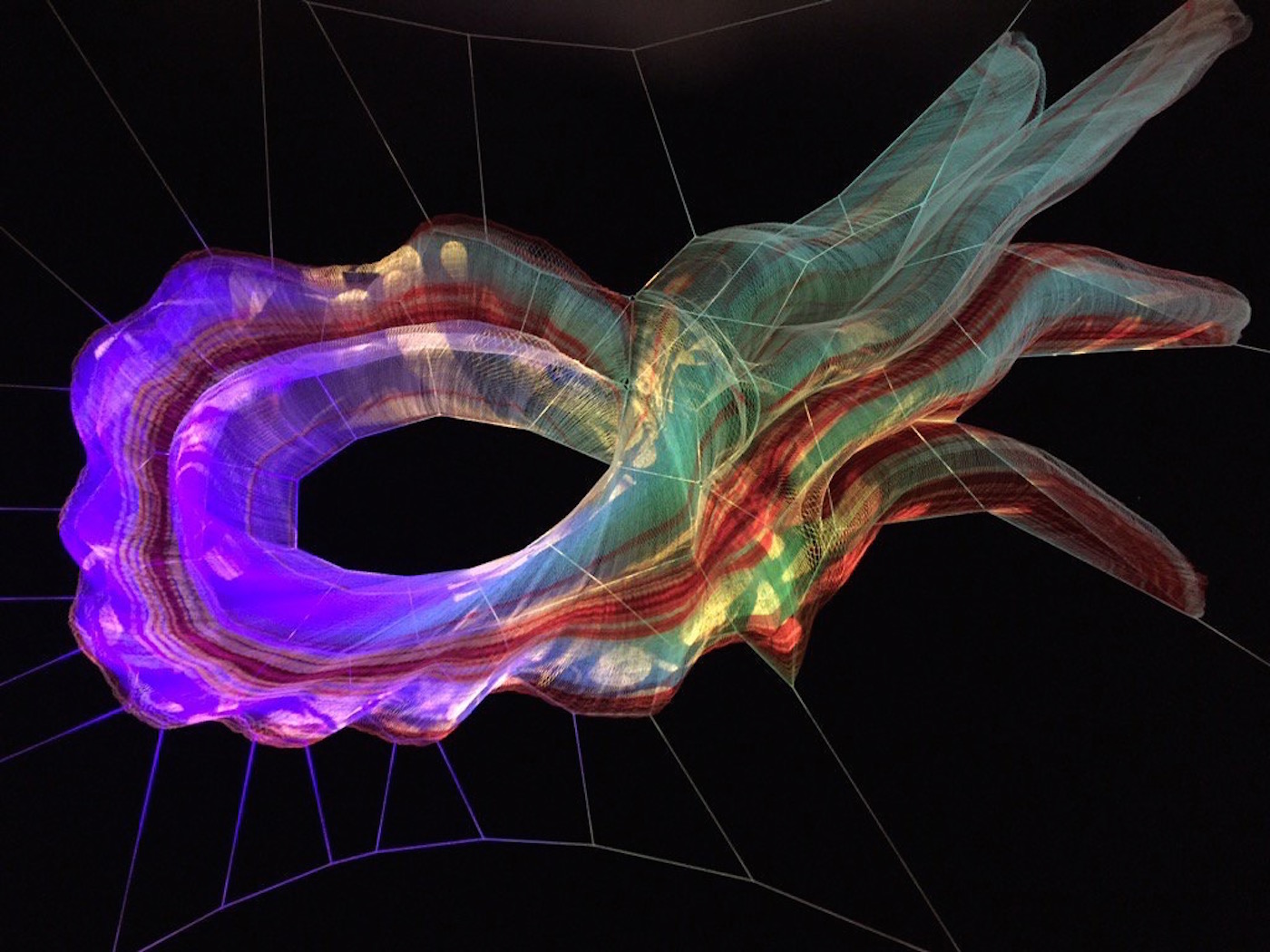 Quite a few people asked me what the sculpture was meant to be so heres an explanation direct from Jane's website and also heres an image to go with the description.
The work's title is 1.8, referring to the length of time in microseconds that the earth's day was shortened as a result of a single physical event, the 2011 earthquake and tsunami that emanated from Japan. The sculpture's form was inspired by data sets of the tsunami's wave heights rippling across the entire Pacific Ocean.
Literally a couple of days after finishing Lumiere I was back in Milan label and advise on the takedown of the LED element for the UK pavilion from the Milan Expo 2015.  I was out there for just over a week, labelling up everything and stripping out delicate elements ready for everything to be installed in Kew gardens starting this April (2016) and going live in June or July I think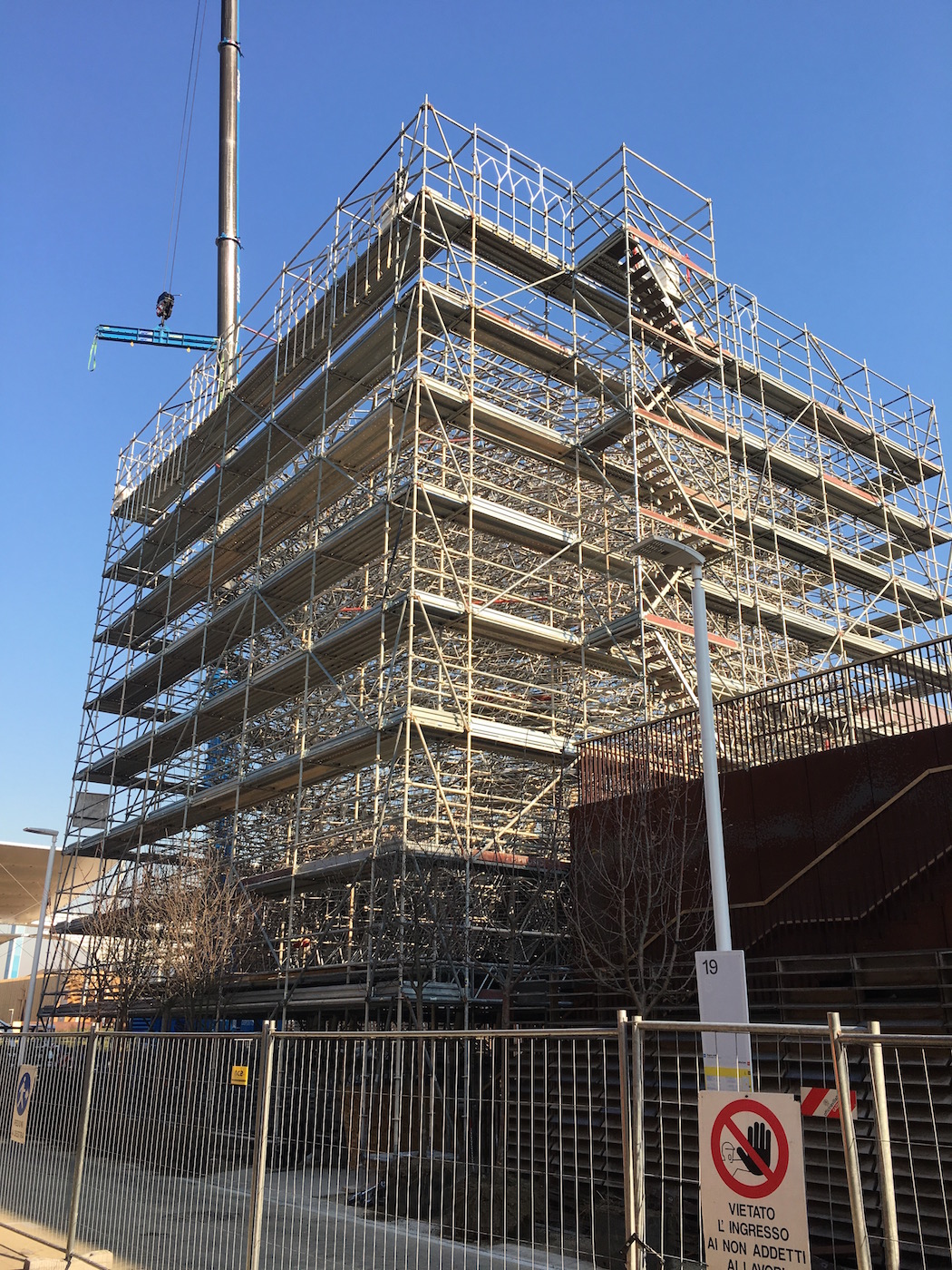 Whilst I was out there I took a short video of the deconstruction with my DJI Oslo handheld camera which you can se below.
After getting back from Milan, i had some time in the north east where i did a bit of maintenance on my equipment, upgraded the OS on my servers and took over to Novak studios where they were working on a project called hinterland (more to follow).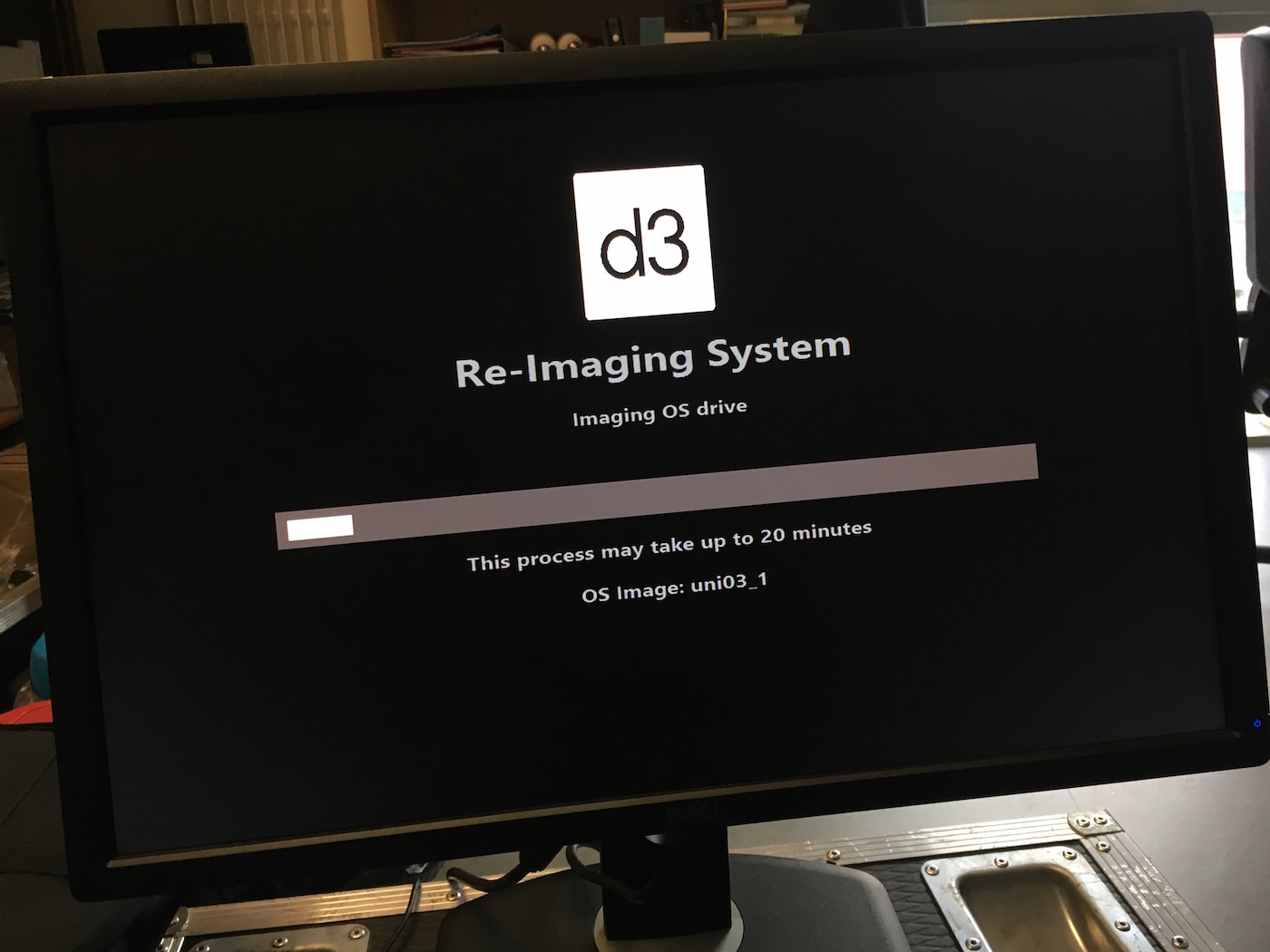 I also decided to upgrade my car to a newer vehicle with more space for kit, I ended up getting a BMW x3 2011 with is really really nice to drive and I can fit quite a bit of kit in there. All i can say after owning it and driving it for the past couple of months is, i like automatic cars and I love the cruse control, such an upgrade form my 11 year old One Series!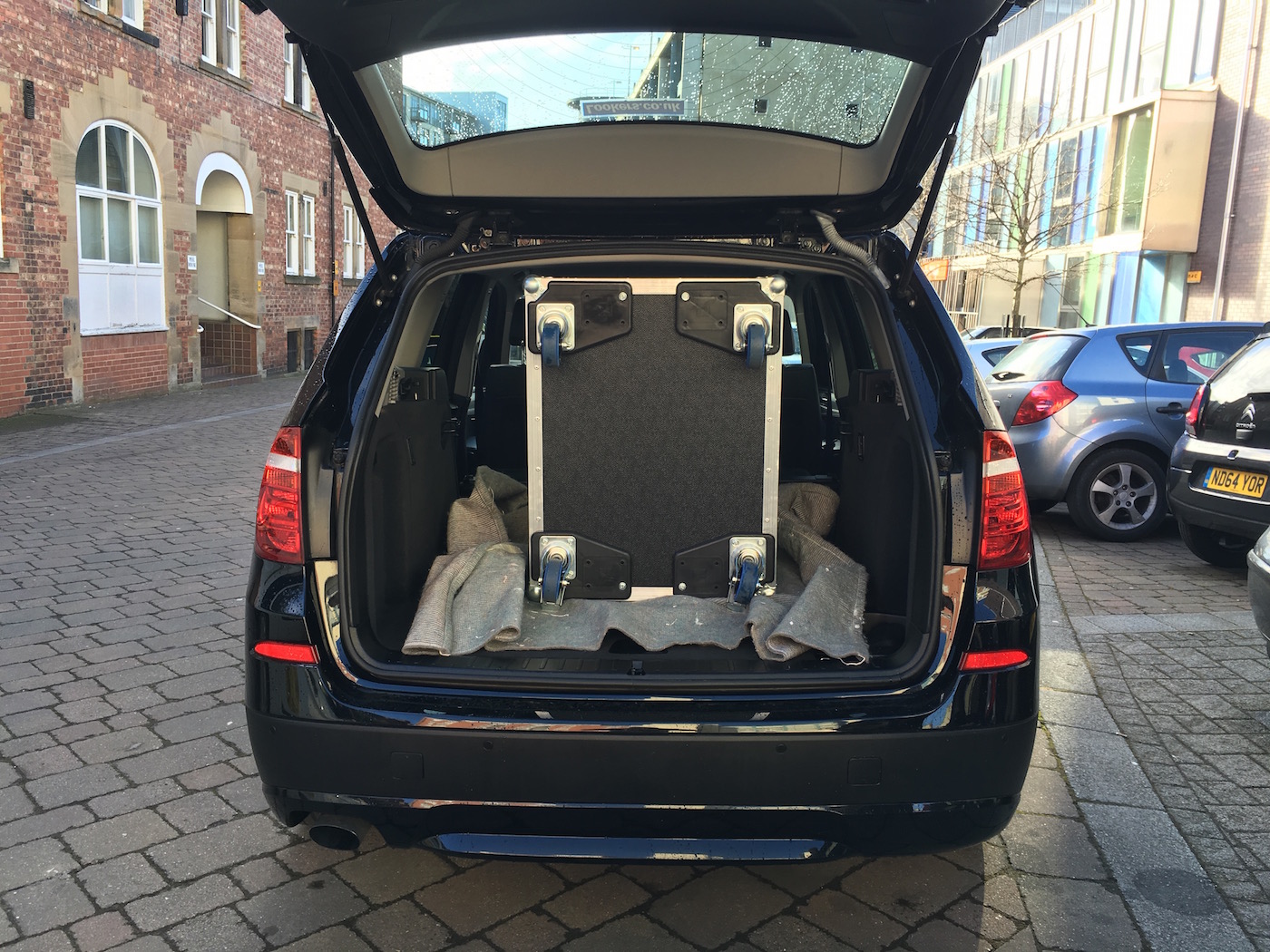 A week later I was off to Saudi with Drive productions to do the Israr awards, i was looking after the d3 racks and system setup. It was a pretty busy and long week getting setup and getting the show together. We had 12 projectors, a hologauze and a high rez led screen to play with.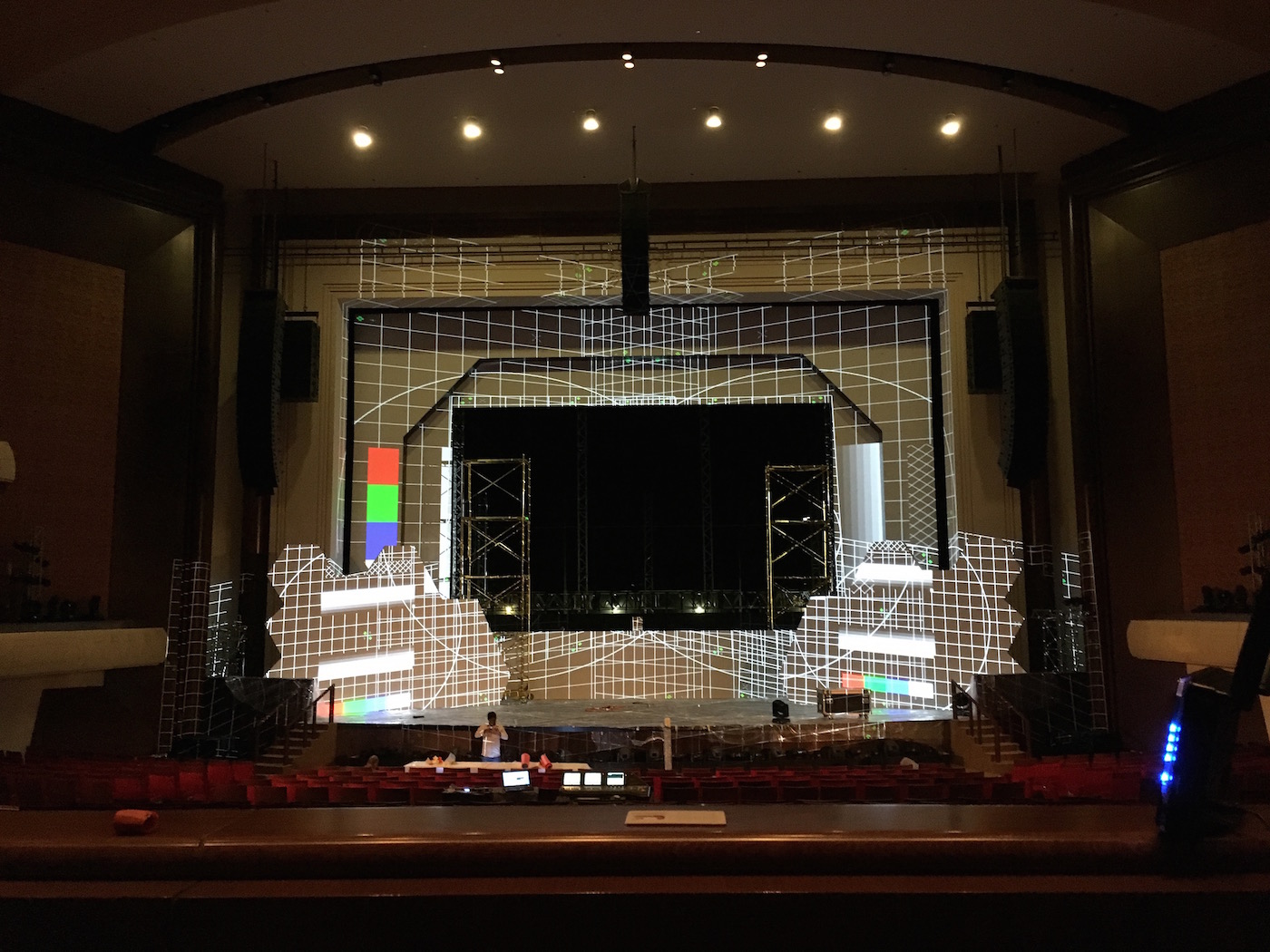 I had to do the lineup twice after a miscommunication about not moving the projectors and finding they had been ratchet strapped together and to the tower the following day, hahah!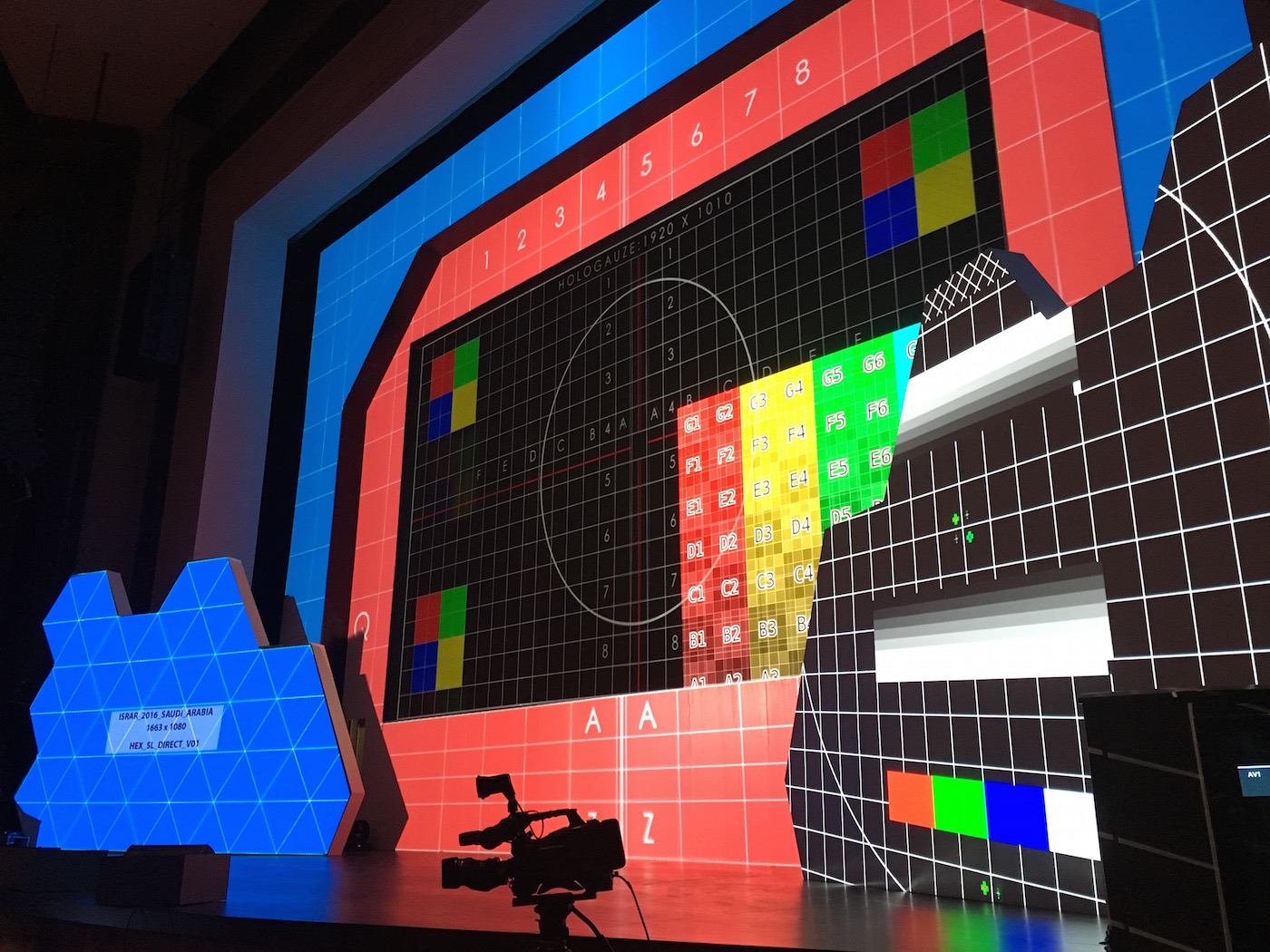 After a few days and some Epic programming sessions for Rowan we had a show and everyone seemed very happy!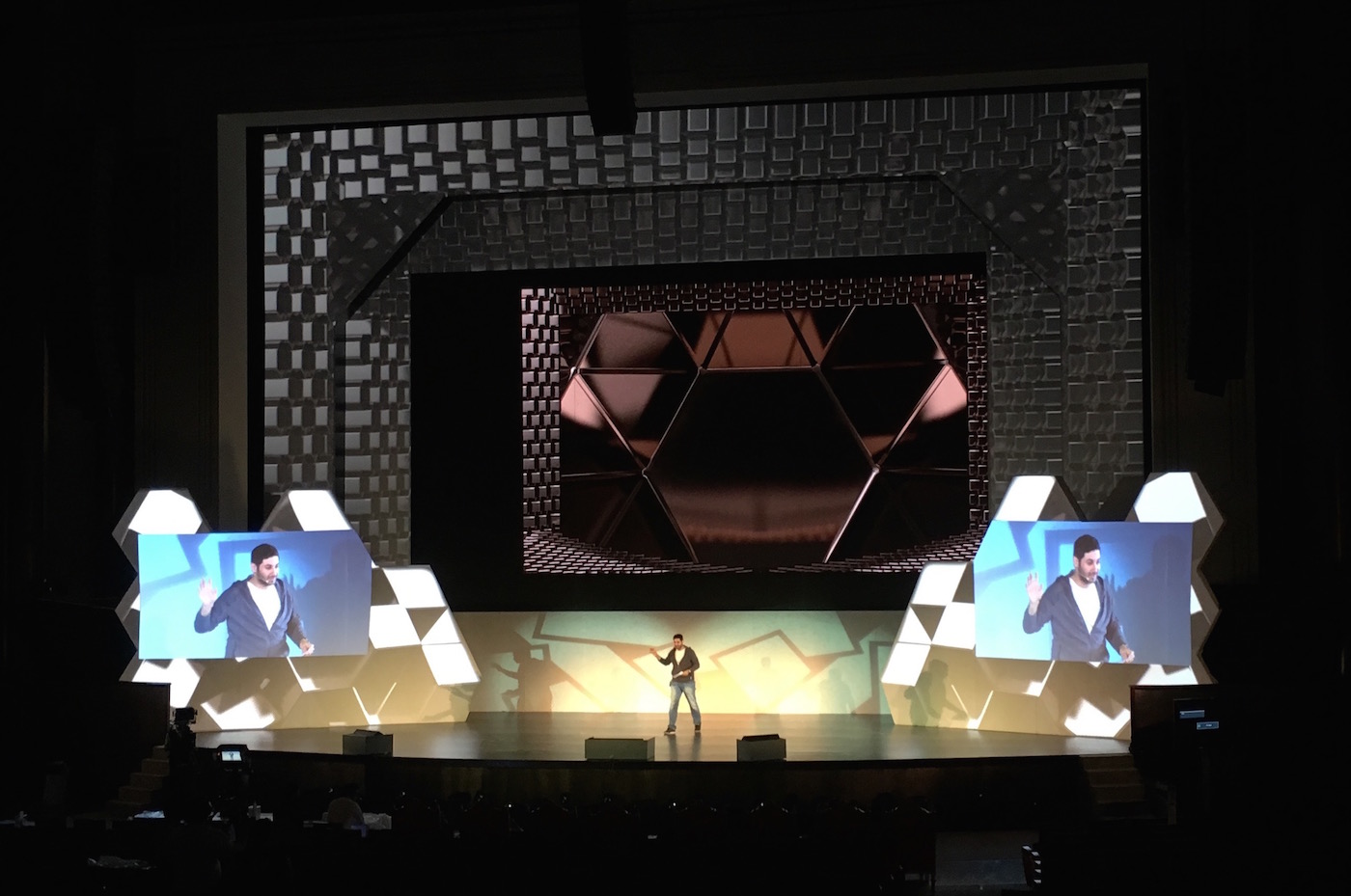 After the show and stripping down all the FOH equipment we had a photo opportunity, I find the is photo so funny, it makes no sense.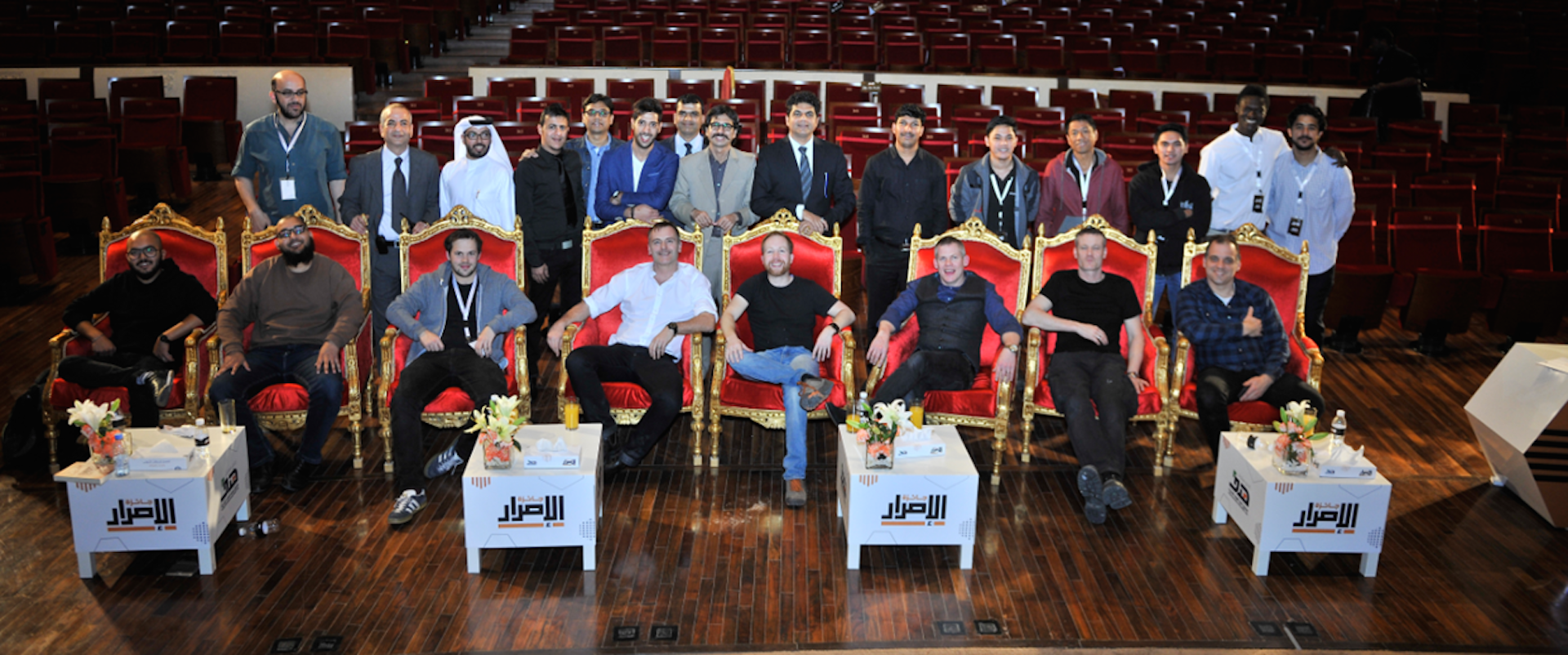 After a couple of days which involved a flight, a train and then a drive to Cardross, I was at StPeters seminary doing a site visit for a project called Hinterland. I was providing d3 servers project setup a and UV unwrapping for Novak as they were projection mapping onto a section of this iconic building as parter of a larger event.
After 2 hours walking round a damp concrete building and discussing projector positions with Rock I was headed back down south to LS Live to catch up with friends I hadn't seen in a while. Nitelites were showcasing their new stick of RCF line array and it was a great opportunity to see everyone. I had to include this picture as I hadn't seen this guy in ages. This is the morning after we had all had beers together.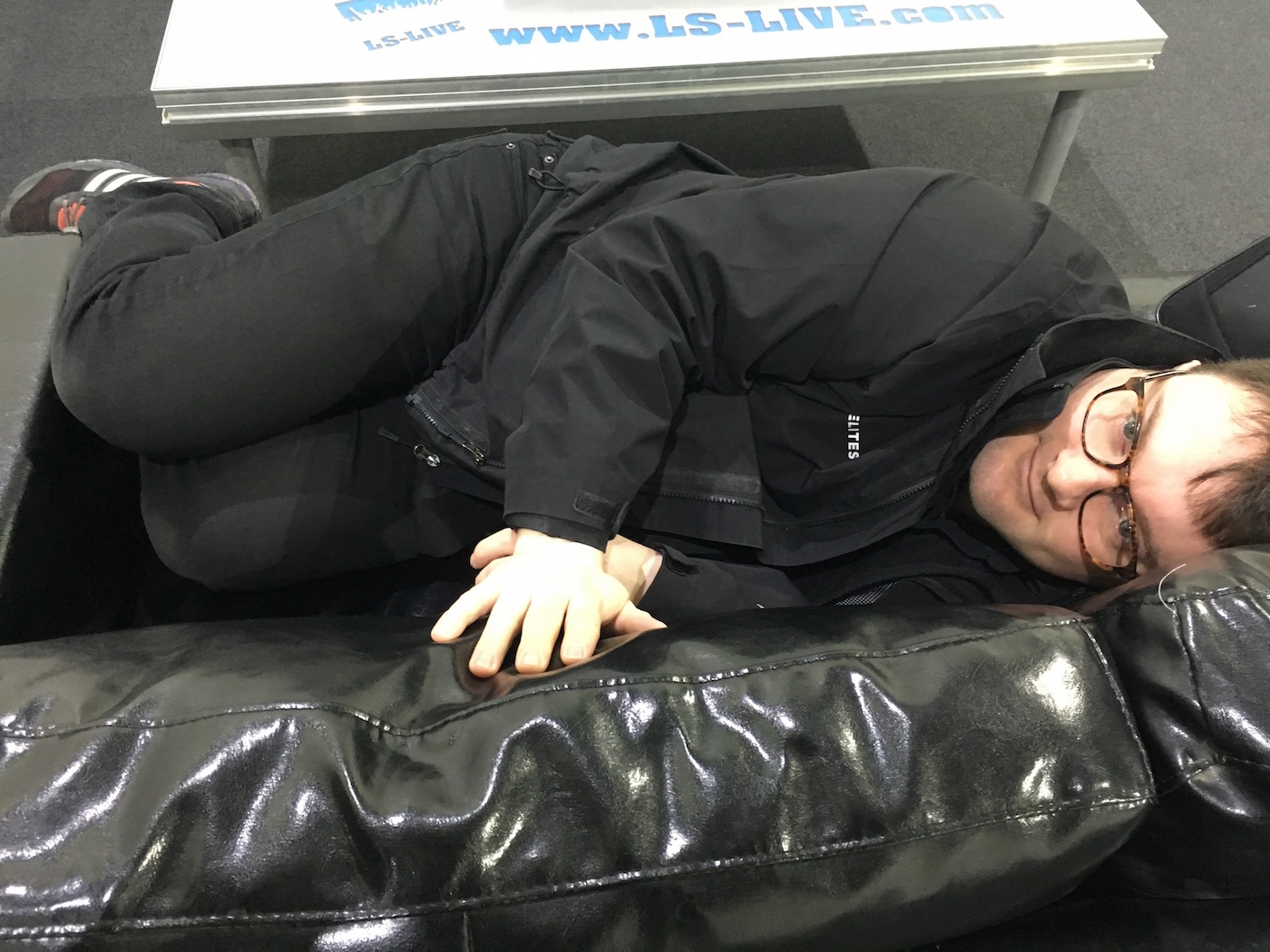 After visiting friends i was headed back north to do the last of the preparation for Hinterland, I was in the studio on the Monday, updating the 3d model and getting the system setup and then on the Tuesday I was completely flawed with what i can only describe as the wort flue I've had in years. From Tuesday through to Thursday I essentially slept and sweated with a horrible fever and developed a really bad cough. By the Friday I dragged myself back to the studio and then on the Saturday morning I was driving to Scotland with a vehicle full of kit to set up for Hinterland. For more information, and better than i can describe, this is what the Hinterland event was about HERE.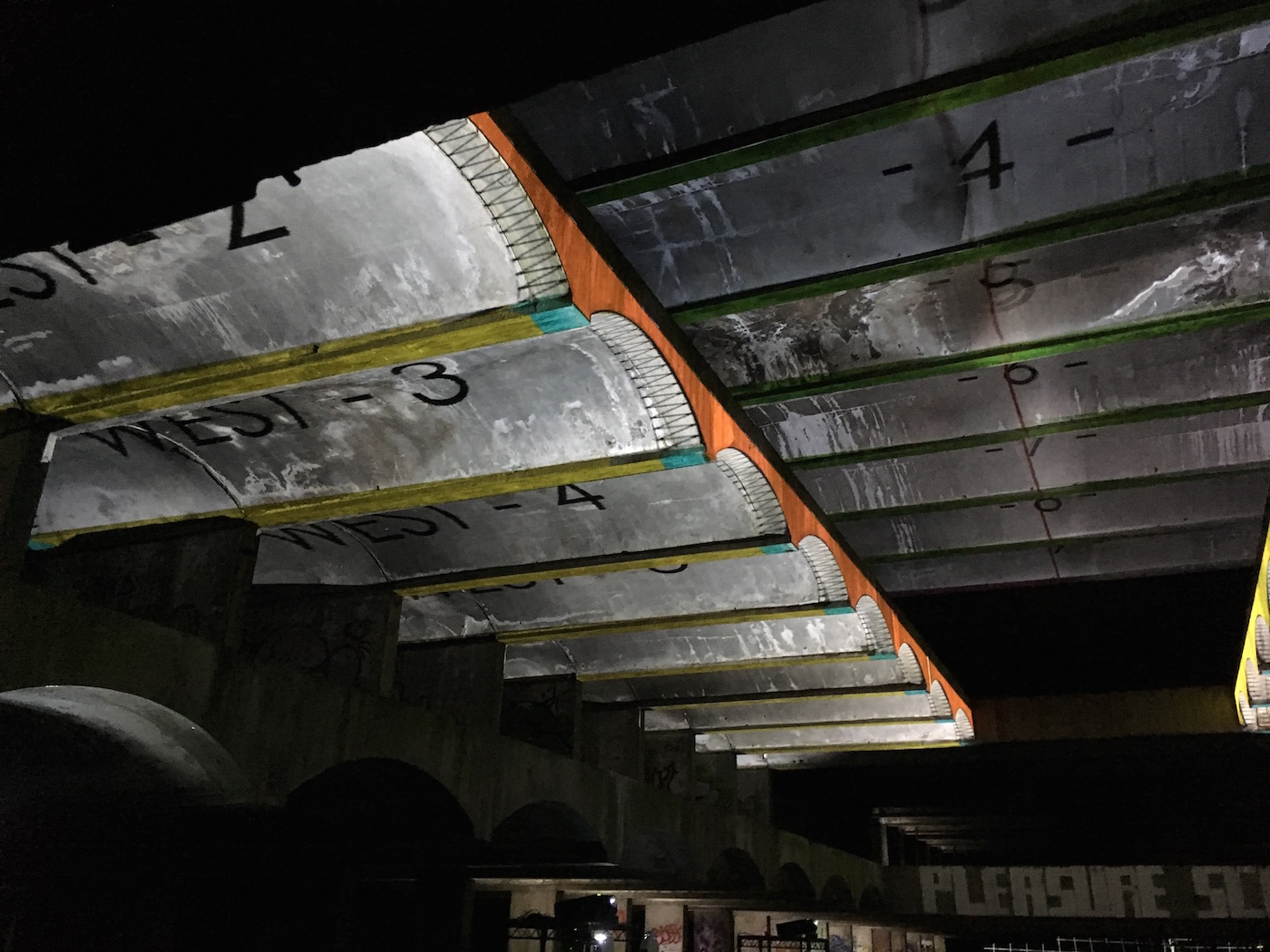 I was providing the media servers and projection mapping services for Novak who had made custom content for the event projecting into various elements of the building. One day of setup and then 2 nights spent in a cold damp building lining up projection didn't help my cold and Phil the lighting designer kept handing out encouragement by telling me to stop being Ill, ha!
By the end of the Tuesday night all the projection was lined up and the media server integrated into the show and being triggered with timecode.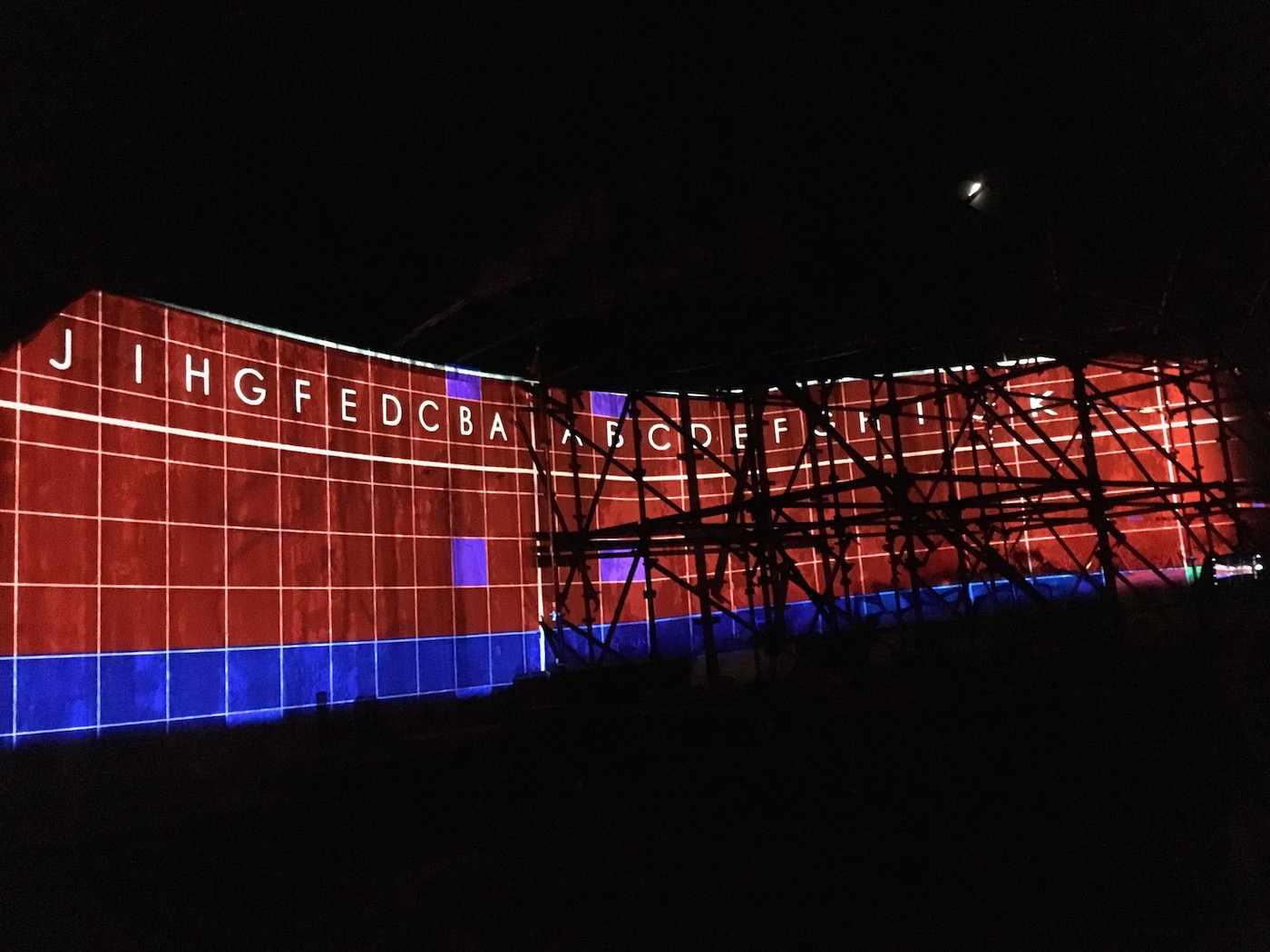 I got the below image of the event off the internet and now cant find where i got it from and who to credit, if anyone knows who took this please send email an email and ill credit them. It was a pleasure to work on this event it it has such a great creative team too, since the event NVA have secured £4million worth of funding to carry on the restoration of StPeters seminary to what will hopefully become and arts based venue over the next 10 years, excellent news!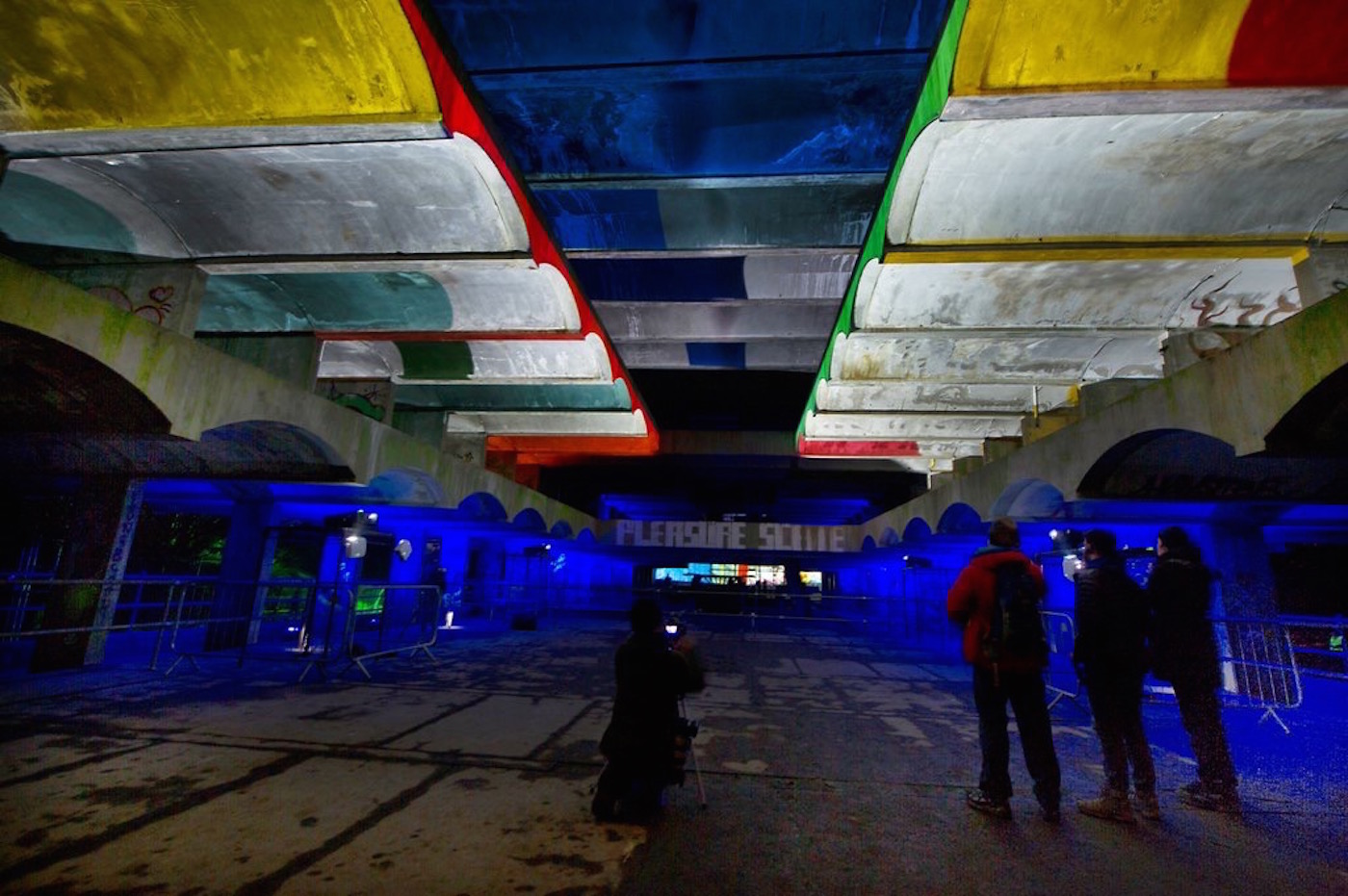 I left the seminary before the event to drive down to London for my next job so didn't get to see the final Hinterland event but I've been told it was extremely well received. So, with quite a few details missing in-between tis brings us up to date where I am currently programming video for Tal Rosner at the Royal court for a show called X when we have or first preview on Wednesday the 30th March 2016, not long to go!!!
Last but not least, whats a blog post without a face to finish on, I saw these two little fellas on the plane back from Saudi. OOoooooooooohhhhhh, Aaaaaaaaaaaaaaggggghhhh!!!