This was a job which was meant to start happening last November 2015 then was pushed back and back until it was stripped out of Milan in January 2016 and began to be rebuilt in Kew Gardens in April 2016. This is the UK pavilion from the Milan expo 2015. It was a very strange and irritating job for me, due to the fact I had not been invited to any meetings prior to the install and any of my recommendations for the timescale and install of the LED were disregarded. I can say now this is not the most happy blog post but its a story which needs told.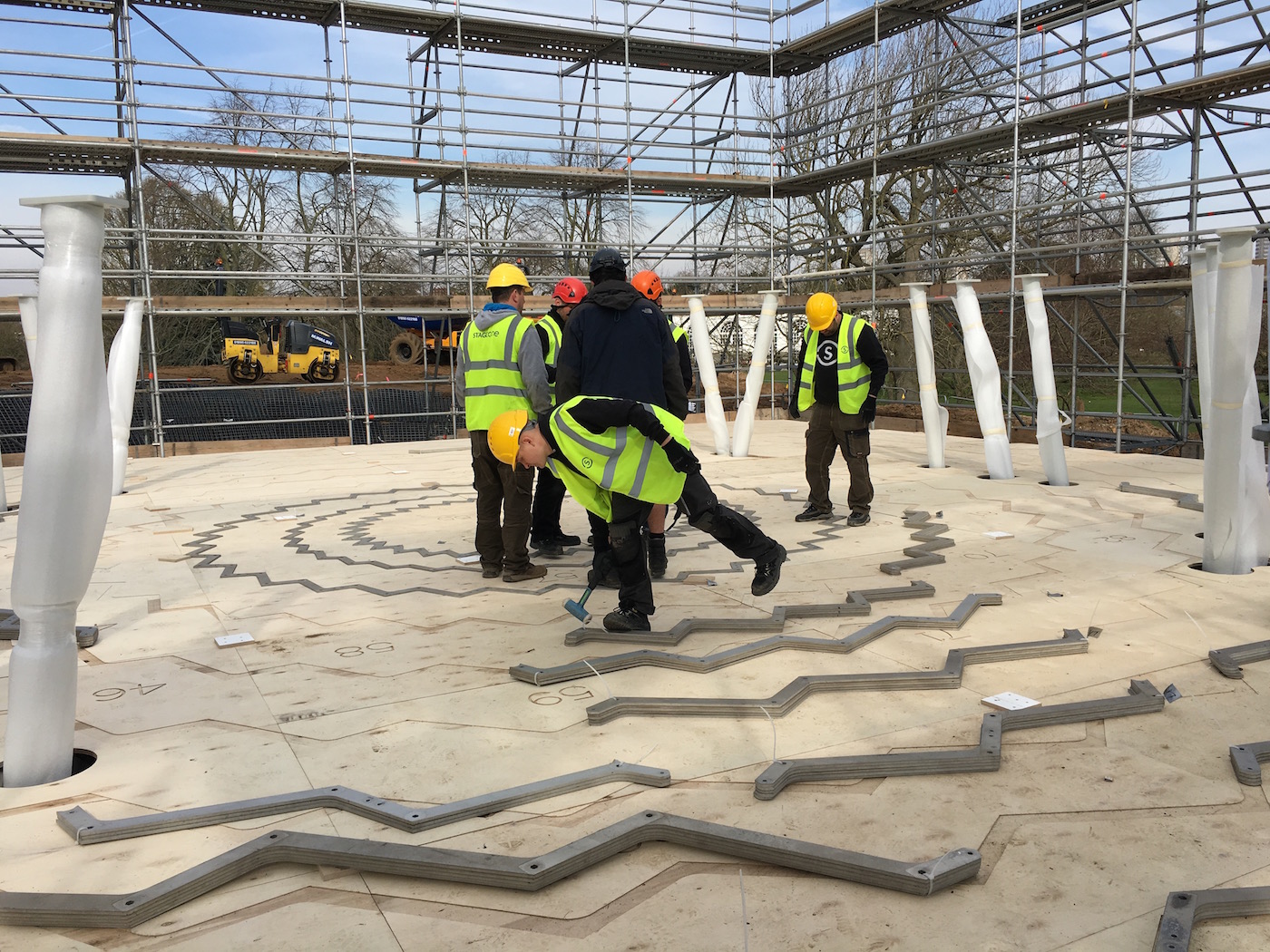 I was booked to be onsite with Jon and we were to test and maintain the LED ring sections which had been uninstalled from Milan, there was a local crew in Milan taking down the hive and removing the LED rings. I had gone in previous and labeled all the cabling and made safe what need to be made safe, the locals would then do the physical strip down.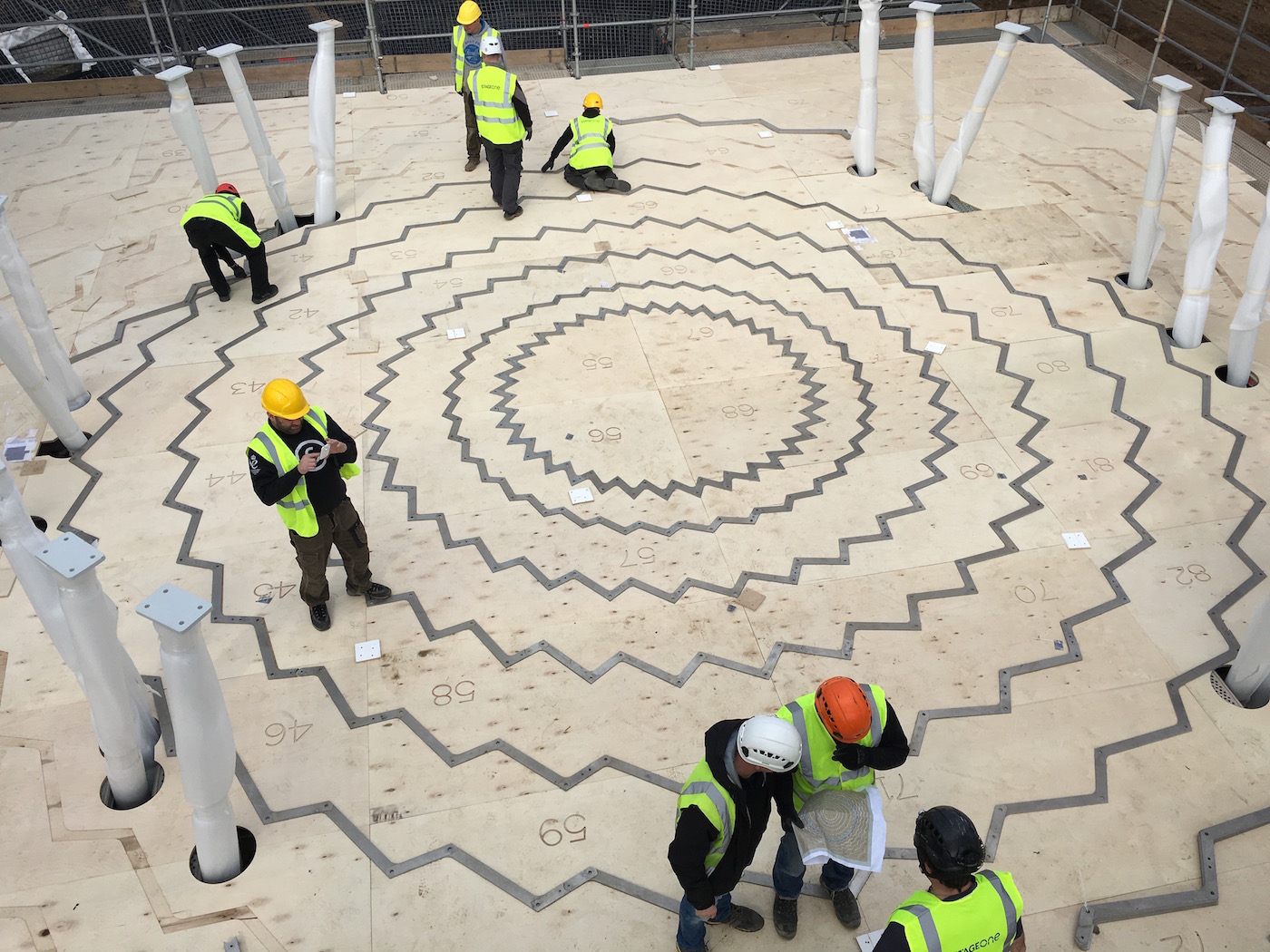 Dale was out in Milan supervising the Local crew on the strip down of the whole hive including the LED. Care wasn't really taken on the out and there were dents and kinks on each section and some parts where parts had been ripped out without un doing the bolts.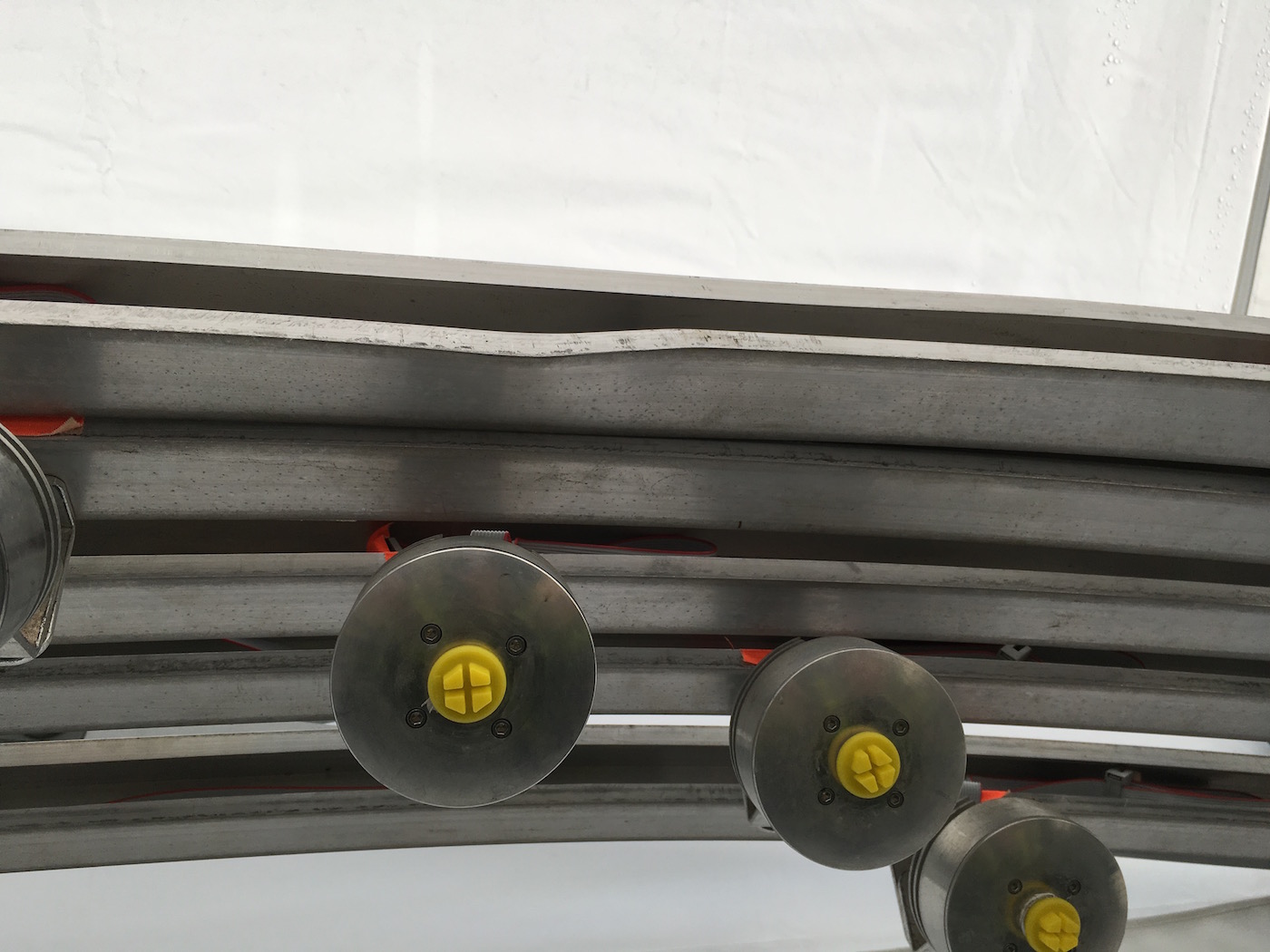 It was pretty frustrating coming to test what had been taken down in Milan, after saying that care needed to be taken only to discover damage & cut cables.
The schedule to get the LED tested and replied was 10 days from myself and Jon working out of a pare of gazebos in a carpark outside of Kew gardens. When we got to site the guys installing the hive had been there for a week but unable to work because of setbacks with the groundworks. I was aware that budgets were tight on this job and having 10 guys not being able to do anything for a week probably cost the project in the region of £15k .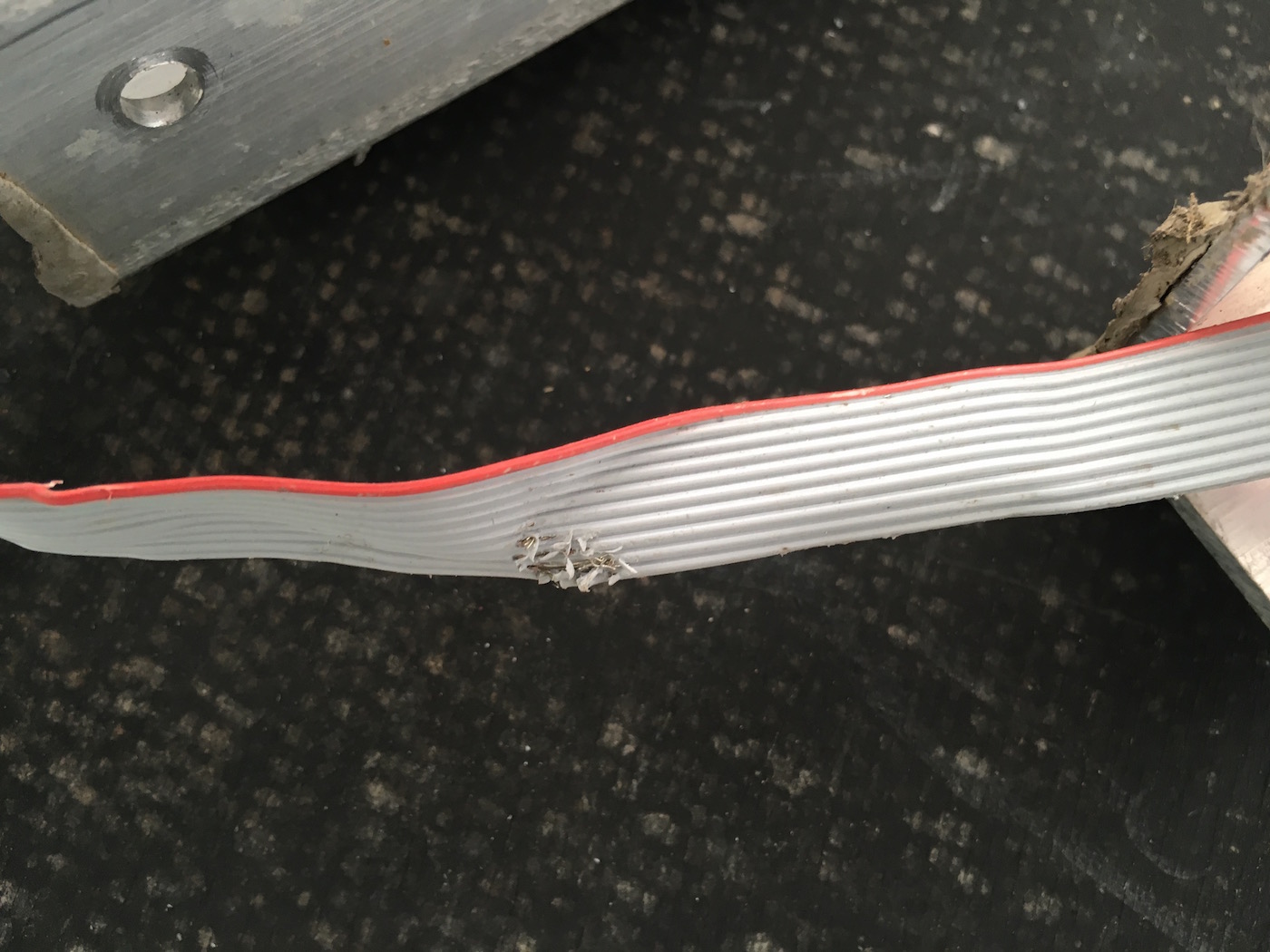 This is the woking area at Kew for testing the LED, not really enough space, and after continually asking for a dry area to work and a dry area to store the LED we had an enclosure but to store tested ring sections. Looking back now, I'm not actually sure why I put up with the amateur conditions. This was and still is a big profile job but the working environment was completely retarded.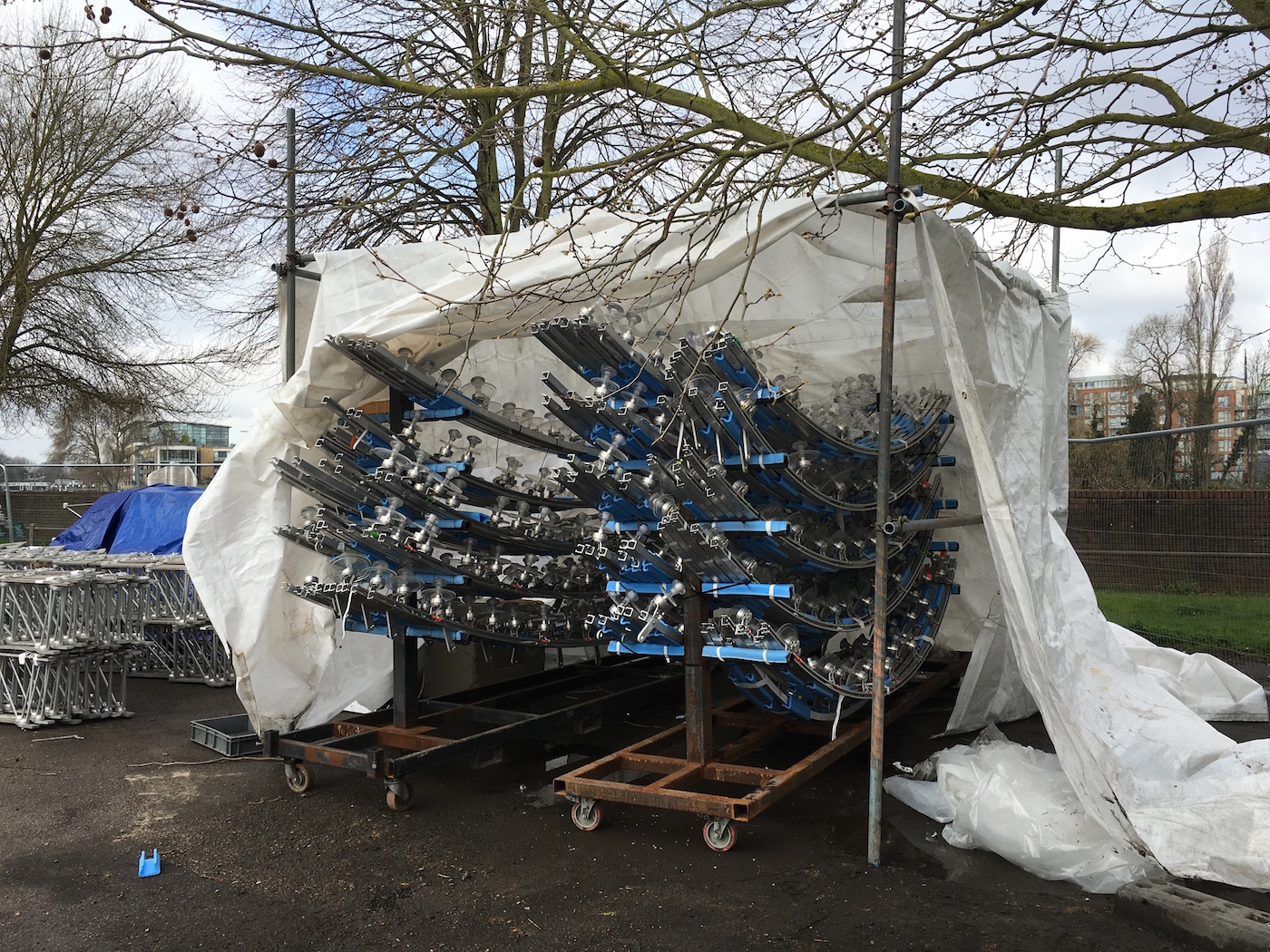 Gary was continually out to screw fix  for the first week to pick up bolts & fundamental tools for the hive build,  components were shirt even though there were 7 weeks in Milan during the strip down where this could have been already ordered. During testing of the LED the generator we had, broke down and we lost a day whilst one of they guys tried to fix it instead of just hiring one for the week, it was frustrating.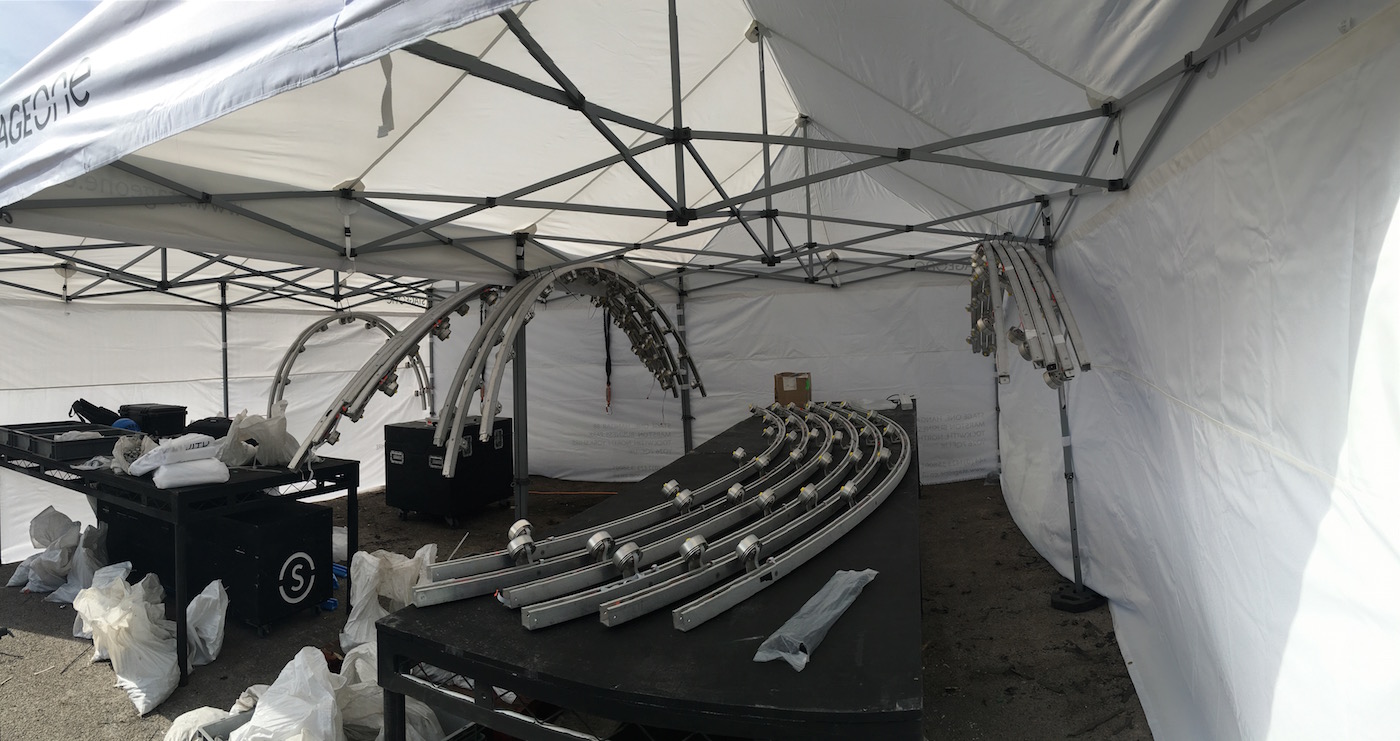 Before the "waterproof" enclosure was built there was nowhere to store the dried and tested rings so we ended up hanging them in the gazebo in an already tight working area.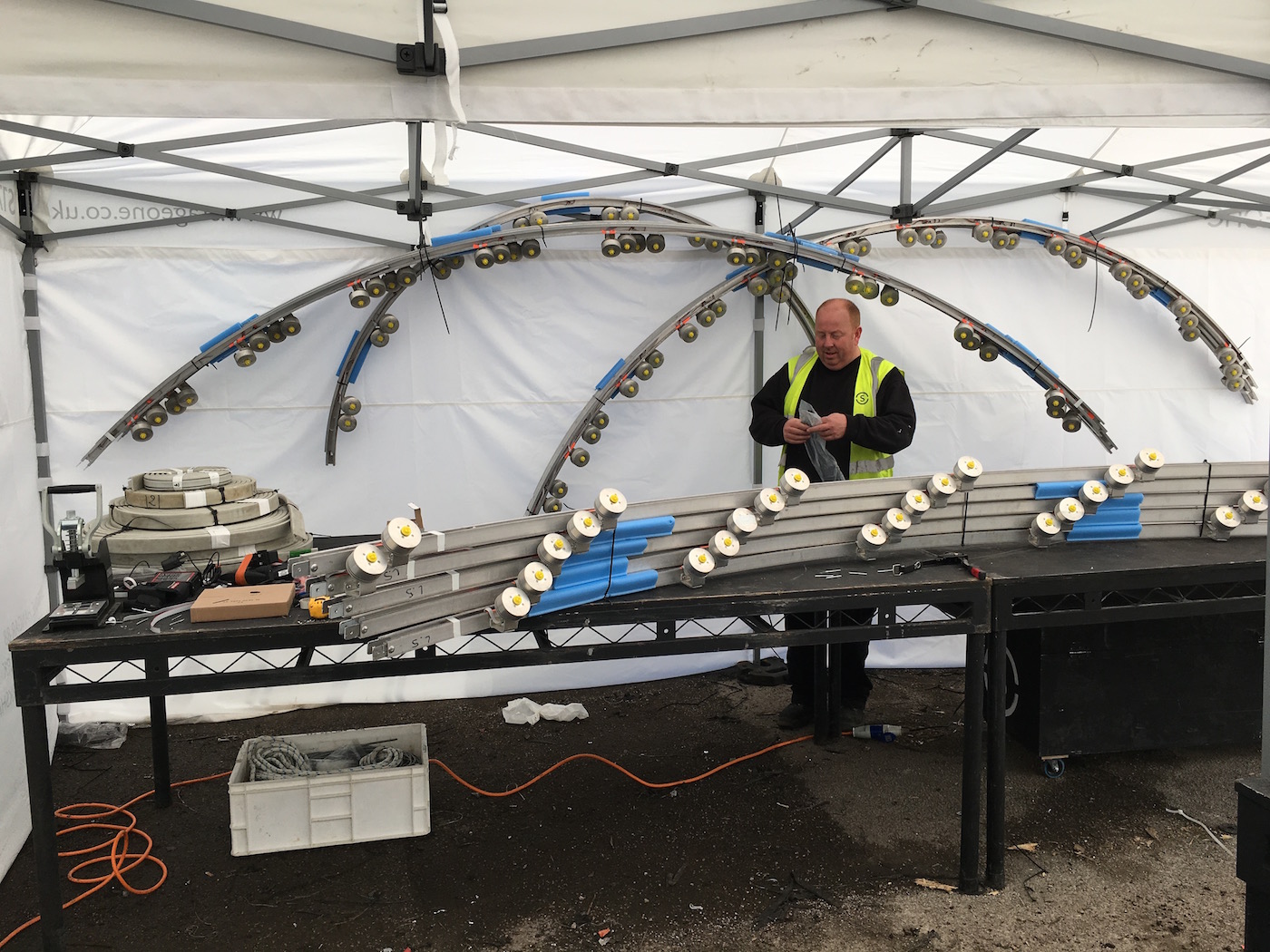 Jumping back to when Jon and Myself came onsite the, LED transported from Milan was wrapped in polythene to keep them dry but because there was no cover to store them once they had came off the truck water had seeped in and pooled in the poletheyne submerging some of the pixels underwater.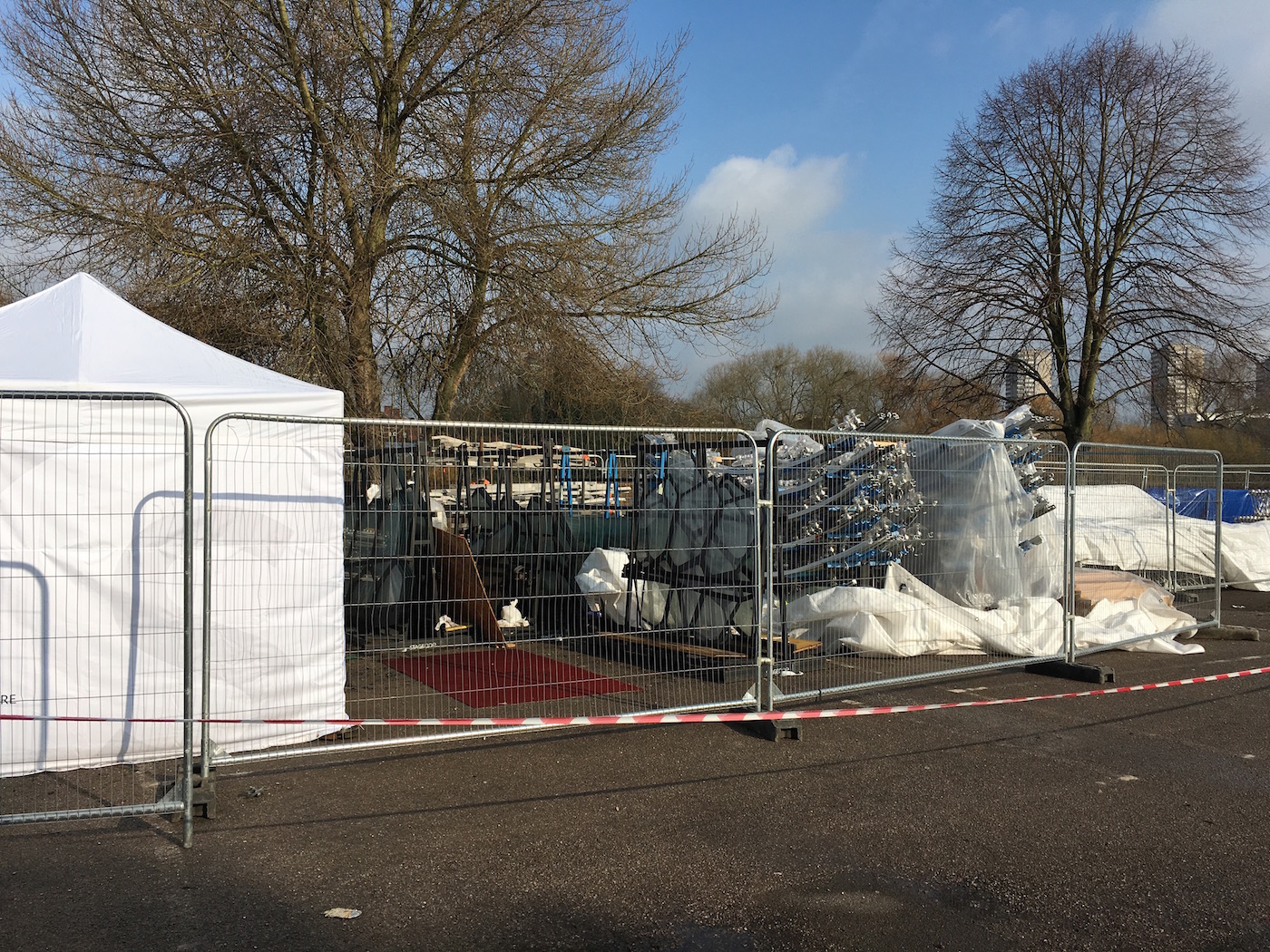 This is one of the pixels full of water, I was stunned that it was still working. When I designed the elctronics and got them manufactured I requested a conformal coating  which essentially created a limited waterproof brier for the electronics.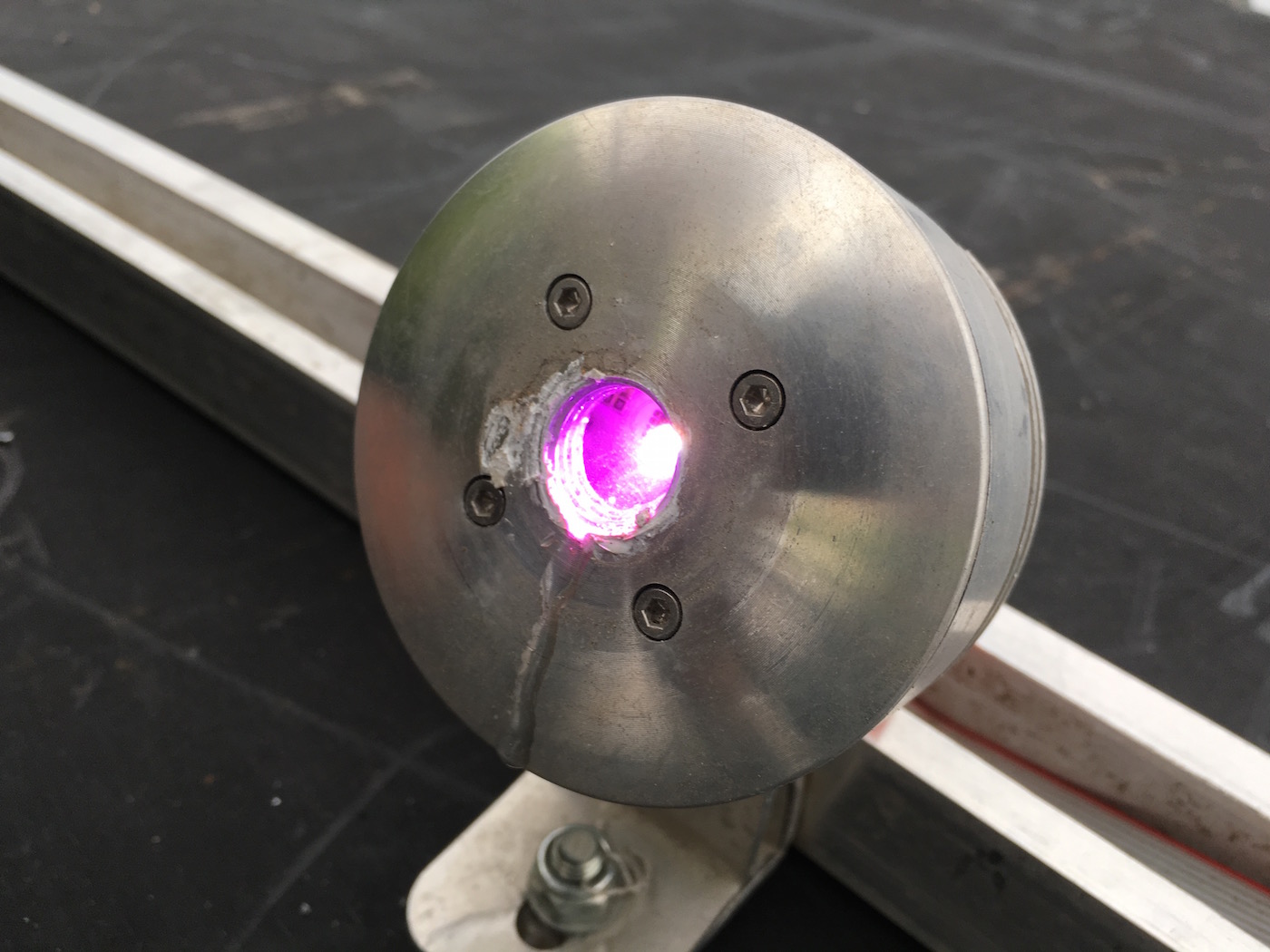 I had stressed my concerns about the waterproofness of the pixel shell, I designed the shell  and sought advice of the best way to waterproof them from Production at StageOne but none in the office were concerned about my concerns of water ingress.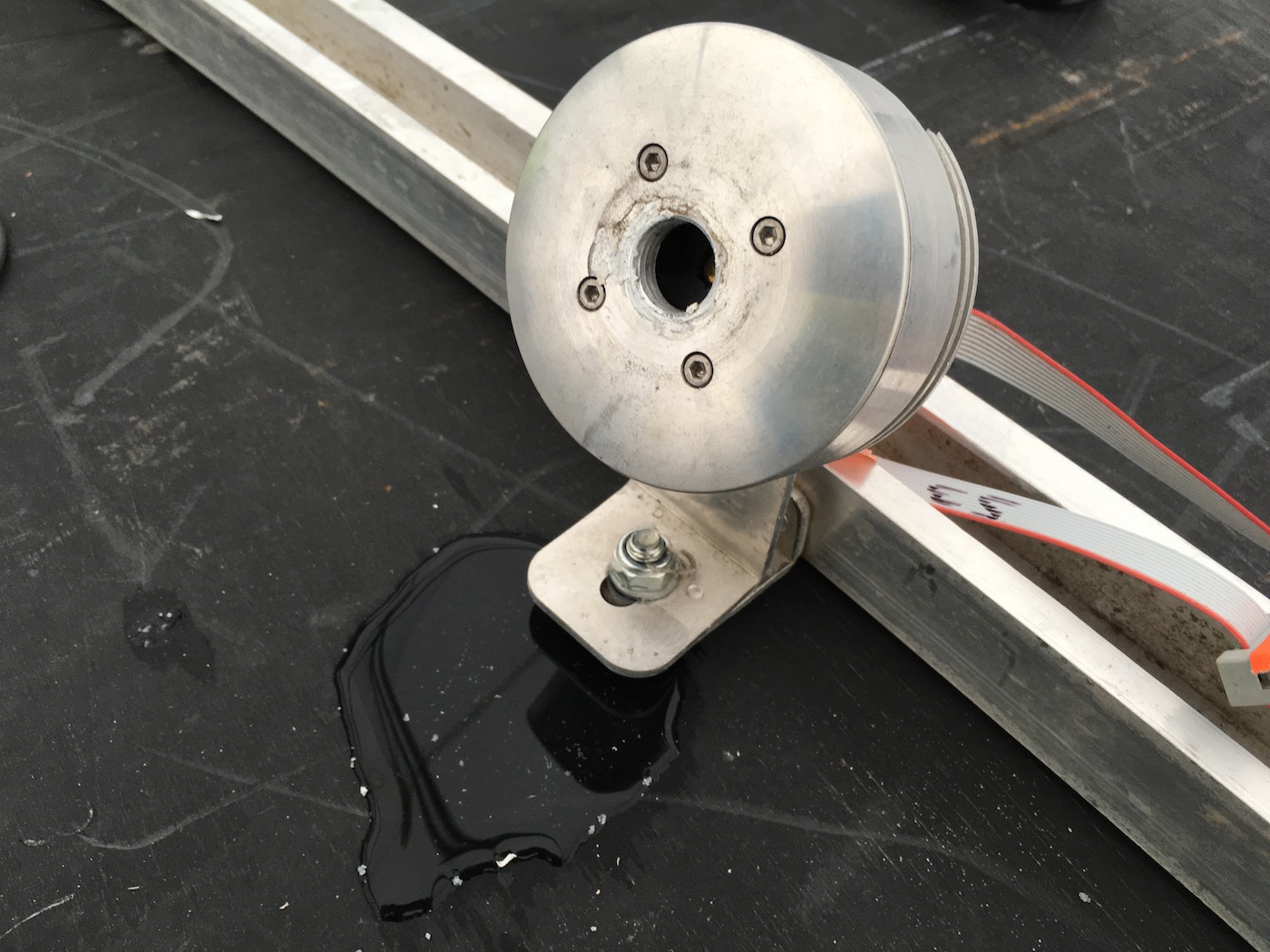 I think we replaced about 60 (8%) Pixels in the end, even though they were working, if there was any sign of damp they were replaced with new seals.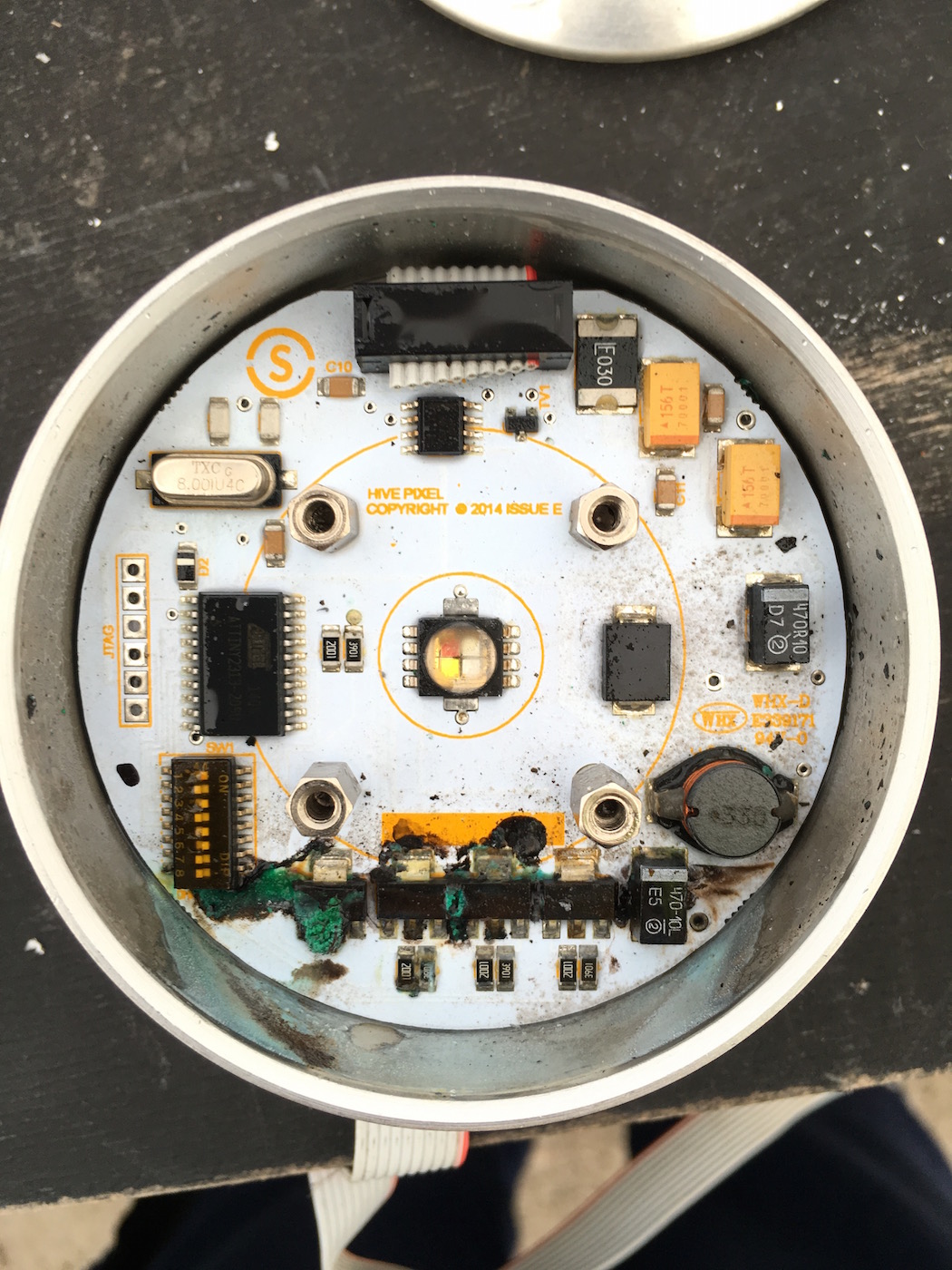 This is where  electrolysis has happened on some electronics with damp or under water, this is essentially fixable but is not a quick process.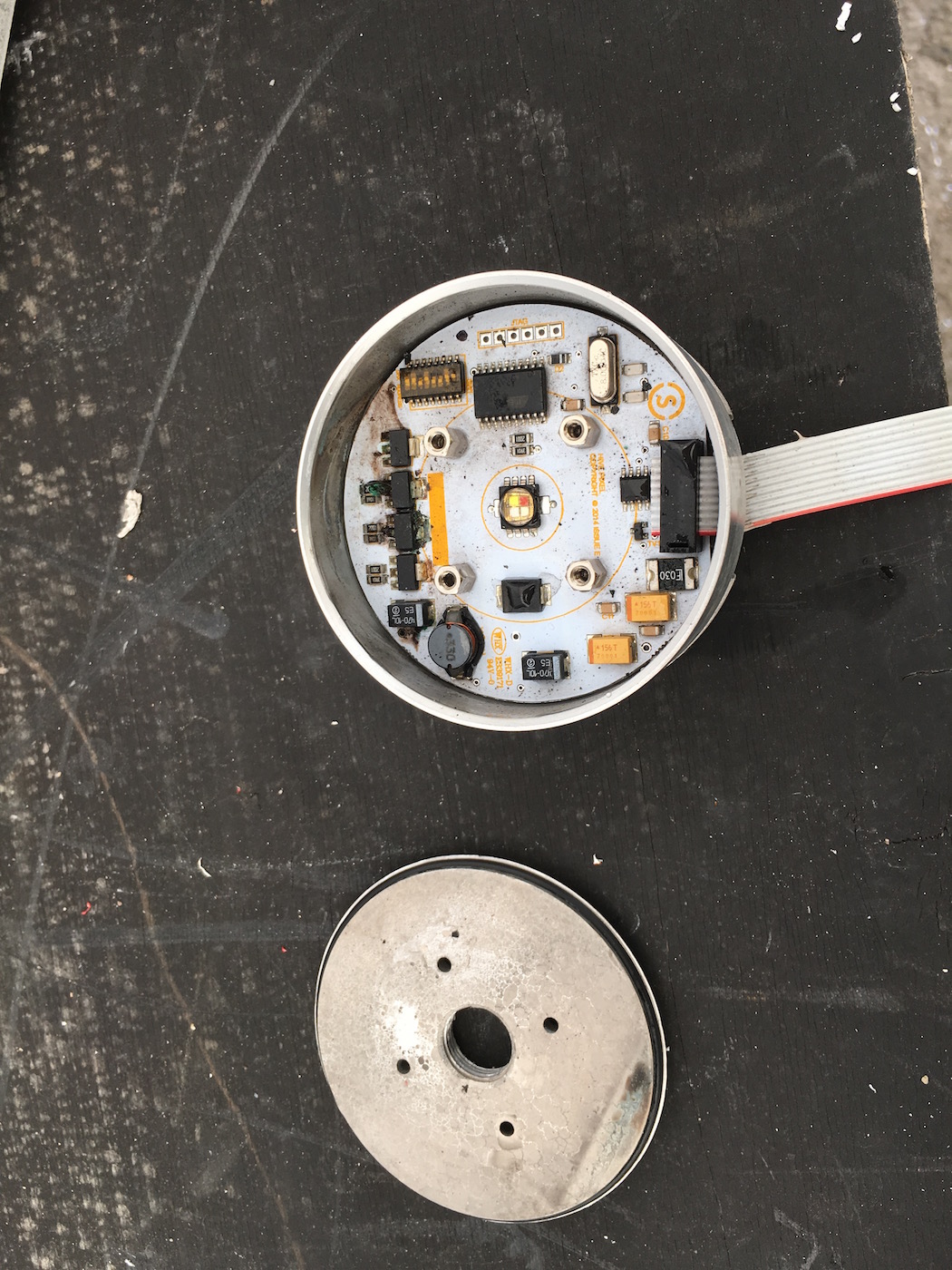 This below is our watertight enclosure for storing the tested and dry LED rings, I have no idea how many times I asked for a waterproof dry enclosure. None on the managers on the job seemed that bothered about the project itself. That was incredibly frustrating after putting 100's hours into designing the electronics for the pixel, designing the cable infrastructure and also writing the software which translates the activity of a real beehive into light. I really cared and still do about this project but found it impossible to do anything to a good standard without the required resources or support of Stage One. It really did feel like everything was unnecessarily difficult, I had assumed that after not being to a meeting prior to the install that someone had been making provisions, I was wrong. Adam Wildi has an amazing knack of making a really simple task difficult and expensive, I hate inefficiency.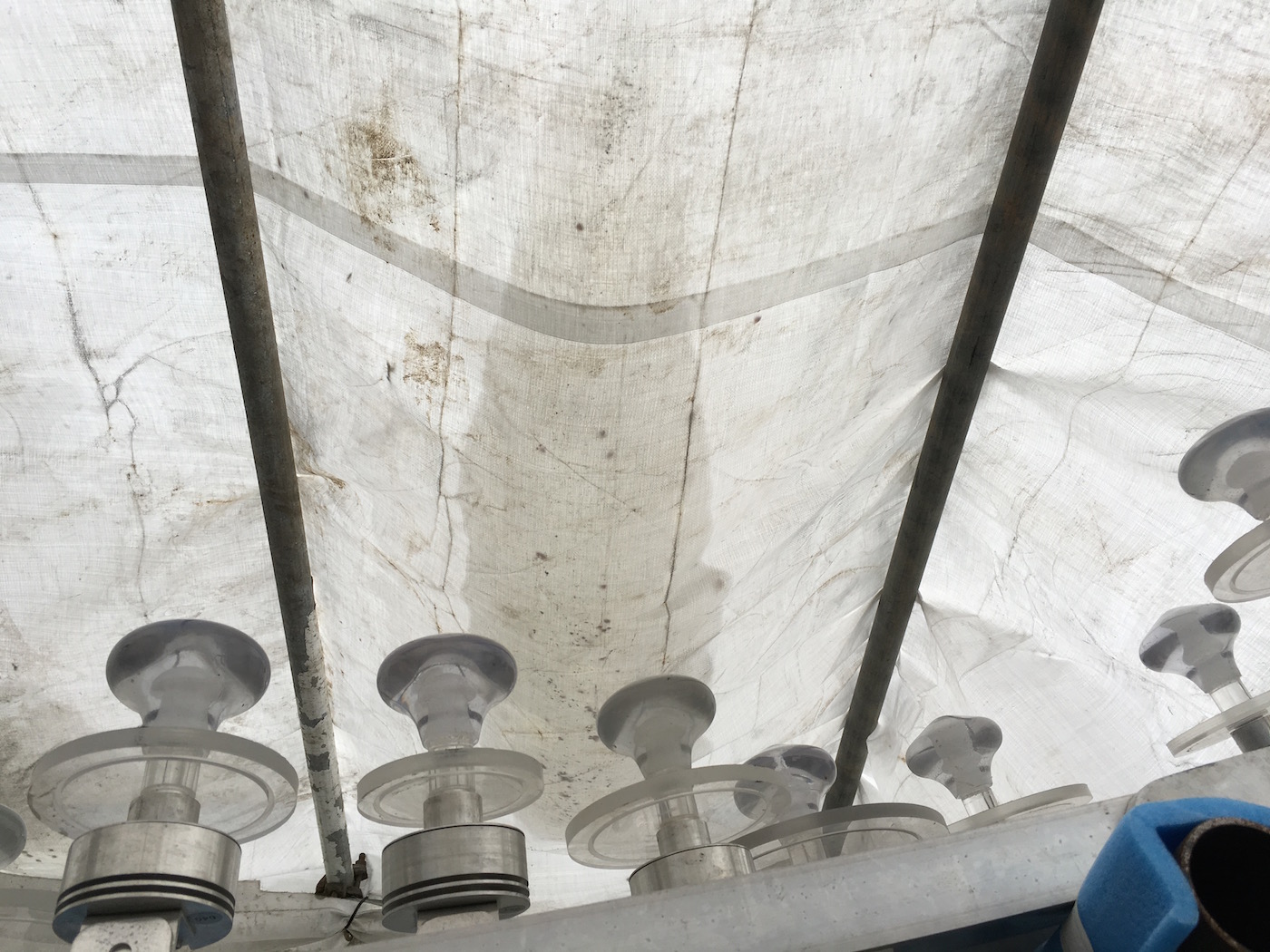 So the 10 days of testing maintaining and replacing led pixel rings ready to go into he hive was over. We had worked in a tent in a carpark, which someone had decided to erect at the lowest part of the carpark so when it rained we had a pool on the corner. We had lost several man days due to an old knackered generator failing on us and never had adequate waterproof cover to store electronics. For the build of the hive, components were still being bought from screw fix instead of having been foreseen and ordered prior to this. All of this happening whist the LED install schedule was so tight due to budgets even though other parts of the build were loosing money due to inefficiency and bad planning.
Its difficult to write this without sounding bitter but I'm actually more saddened and frustrated by the process. At this point I decided to tell the directors that I was stepping down from the project. It wasn't a decision I made lightly and was unhappy on this project, it made me miserable and my professional opinion wasn't been listened too. I was saddened and i stuck with it for so long because of the history of successful projects I've done with Stage One. It was the right decision and I should have said that I would not have done the project earlier if I could have seen into the future and see the lack of support and respect.
Ive continued to remotely support the project as all the LED electronics and software is my design and theres no-one else to support it, I'm not the kind of person to leave anyone in the shit.
The Hive had a opening party on in early June, I had a call from Robin prior to the opening asking for some support with the LED. I helped him over the phone and he said what time are you coming down to the opening party, I told him i didn't get an invite and robin said "your fucking kidding me". I wish I was kidding, about the whole thing.
The Hive will be in Kew gardens for the next 2 years, the designer Wolfgang is a really sound guy as is Mike, Robin, Kev and Tony who have looked after the audio element.  Its worth going to see if your in the Kew area.